CLOSEOUT ITEM (FINAL SALE)
Regular price
Sale price
$65.00
Unit price
per
Sale
Sold out
Note: A Blankestry is not a full-size blanket (see Description below). Shop our full-size throw blankets here.
Description

What's a Blankestry?
It's a a functional piece of handwoven blanket wall art that can be hung as a 3' x 3' tapestry or used in a variety of ways

Sustainable
Made from 100% Recycled Clothing Material!

Handwoven & One-Of-A-Kind
Every Blankestry is handwoven on a traditional loom and uniquely one-of-a-kind

Artisan Made
Each Blankestry is ethically made by Mexican artisans carrying on centuries of skill & tradition

The Blankestry: Functional Blanket Art

From the day we first launched our line of handwoven throw blankets, we started hearing the question:

"It's so beautiful, can I hang a blanket on my wall like a tapestry?"

Of course you can, wall blankets are awesome! You can hang any of our full-size handwoven blankets on your wall and use them as functional art.

But finding that much empty wall space isn't always an option. So we created The Blankestry and boy does it really tie the room together, Lebowski.

For Your Wall, For Your Life

A Blankestry is designed to be wall art - but, like most Trek Light products, the adventure is up to you.

We've already heard from customers who have used their Blankestry to decorate their campsite, to add an accent to a table, dresser, or chair, and even to add a blast of style to their pet's favorite lie-down spot.

Of course, you can still use your Blankestry to get cozy like any other blanket - but it is small! Think of it as a lap blanket, a shoulder wrap, or a shawl.

If you're looking to wrap yourself up and get cozy, you'll definitely want to grab one of our full-size throw blankets.
Specs

Style: Handwoven Mexican Blanket Wall Art

Sizing: Small Tapestry

Approx. Length: 3ft / .9m

Approx. Width: 3ft / .9m

Approx. Weight: 1lb / .5kg

Materials: 100% Post-Consumer Recycled Tri-Blend (50% Acrylic, 40% Polyester, 10% Cotton)

Super Cool: Every Blankestry is made from recycled clothing material saved from the landfill!

Uses: Tapestry, wall art, table covering, lap blanket, shawl, van life accessory, covering up that weird stain on your wall with style, modifying into a cape and calling yourself Captain Blankestry

Care: Wash Cold, Tumble Low (Dry Clean for best care - see Blanket Care tab)

Origin: Handmade In Mexico
Handmade Item

A Uniquely Handmade Item

These aren't machine-made clones - every Trek Light Blanket is woven by hand on a traditional handloom. The artistry of the weaver is in every piece, and that truly means that every blanket made and sold is a unique, one-of-a-kind work of art.

That means you should expect variances!

As a handmade and handwoven blanket, there may be variances in the blanket design details and, since we source our yarn from 100% recycled materials, the blanket colors may even vary slightly from what's pictured.

Imperfections and variances are exactly what makes handwoven art special (just like you)!

Imperfections (Are Beautiful)

Due to their handwoven nature, our blankets may have some stray, loose, or pop-out threads, even when they're brand new. They're not a sign that your blanket is going to fall apart - and they're all carefully inspected and tied off where necessary to make sure your blanket is made to last.

These little artifacts are meant to be appreciated and are intentionally left intact by the weavers. It's what gives handwoven blankets their character and sets them apart from machined textiles!
How It's Made

Made With 100% Post-Consumer Recycled Materials

It all begins with clothing.

Every blanket is made from excess clothing materials that otherwise would end up in the landfill - first, they're shredded into a pulp and then they're upcycled into yarn.

By repurposing high-quality materials and preventing them from ending up in the landfill, we're able to minimize our environmental impact and create less waste for our planet.

Handwoven By Mexican Artisans

Every blanket is handwoven in Mexico on a traditional wooden pedal loom by Indigenous artisans continuing a long tradition of craftsmanship and creativity.

The best things aren't made in factories. And that's why many of our artisans also continue the tradition of home weaving - allowing them to determine their own hours, wages, and workload.
Blanket Care

Cleaning

For the absolute best results, we recommend dry cleaning the blankets as it will always be the safest and most gentle process for them.

But, we're also big fans of this Mitch Hedberg line:

"This shirt is dry clean only. Which means... it's dirty."

We get it, it can be a deterrent if your favorite blanket is the one thing that forces you to have to make a trip to the dry cleaners. Especially when you use it every day like you should.

Which is exactly why we made sure that all of our blankets are washer-friendly! Just do it with love.

If you do wash at home - do it on a cold, delicate cycle and then either hang the blanket to air dry or tumble dry on the lowest heat and tumble setting (again, delicate is the way!).

For full details on caring for your new blanket, see our detailed care guide:
Give Back Impact

Feel Good. Do Good. Pass It On.

For every item sold, we work with Trees For The Future to plant a tree in your honor.

Why is that so powerful? By helping small farmers and villages around the world with the planting of fruit & vegetable trees, shade trees and more, together we're going beyond basic environmental change.

Trees For The Future uses a Forest Garden approach to reforestation - planting trees to not only provide environmental benefits, but also food, income, and community agriculture where it's needed most.

Every purchase creates a chain reaction of good and happiness in the world, and it all starts with you.
Our Promise

Our Happiness Guarantee

We want you to be happy with what you buy from us, period. If you aren't, you've got our promise that we'll always do whatever we can to bring you happiness.

Within reason, right? Maybe you're sad because everything in our store doesn't cost $1 - well, we need to have some rules so we can survive as a small business.

What matters is that we're here for you.

We truly care about your happiness, and will always do what we can to help - maybe it's a discount on your next order, store credit for a future purchase, or just going out of our way to make sure that the next item you buy from us is exactly what you want.

30-Day Easy Returns & Exchanges

If for any reason you're not happy with anything you ordered from us, just send it back to us within 30 days by following the instructions on our returns page.

The product must be in unused or 'like-new' condition - you're welcome to try a product to make sure you like it, but we cannot accept returns that are abused, stained, washed/laundered, or damaged (unless it's the result of a manufacturer's defect).

Holiday Extension: All purchases made in November or December will be allowed an extended return window thru 1/31. We'll make it easy for the gift recipient to handle any returns or exchanges!

To view our full return policy details and initiate a return/exchange of your product, just click the button below:
"If you are depressed you are living in the past, if you are anxious you are living in the future, if you are at peace you are living in the present." —Lao Tzu
Our handwoven Peace design is a beautiful addition to your home or your home on the road.
Handwoven with 100% post-consumer recycled materials. One tree planted for every item purchased.
Because of their handmade nature, the color and details may vary on each item (see the Handmade tab for details).
View full details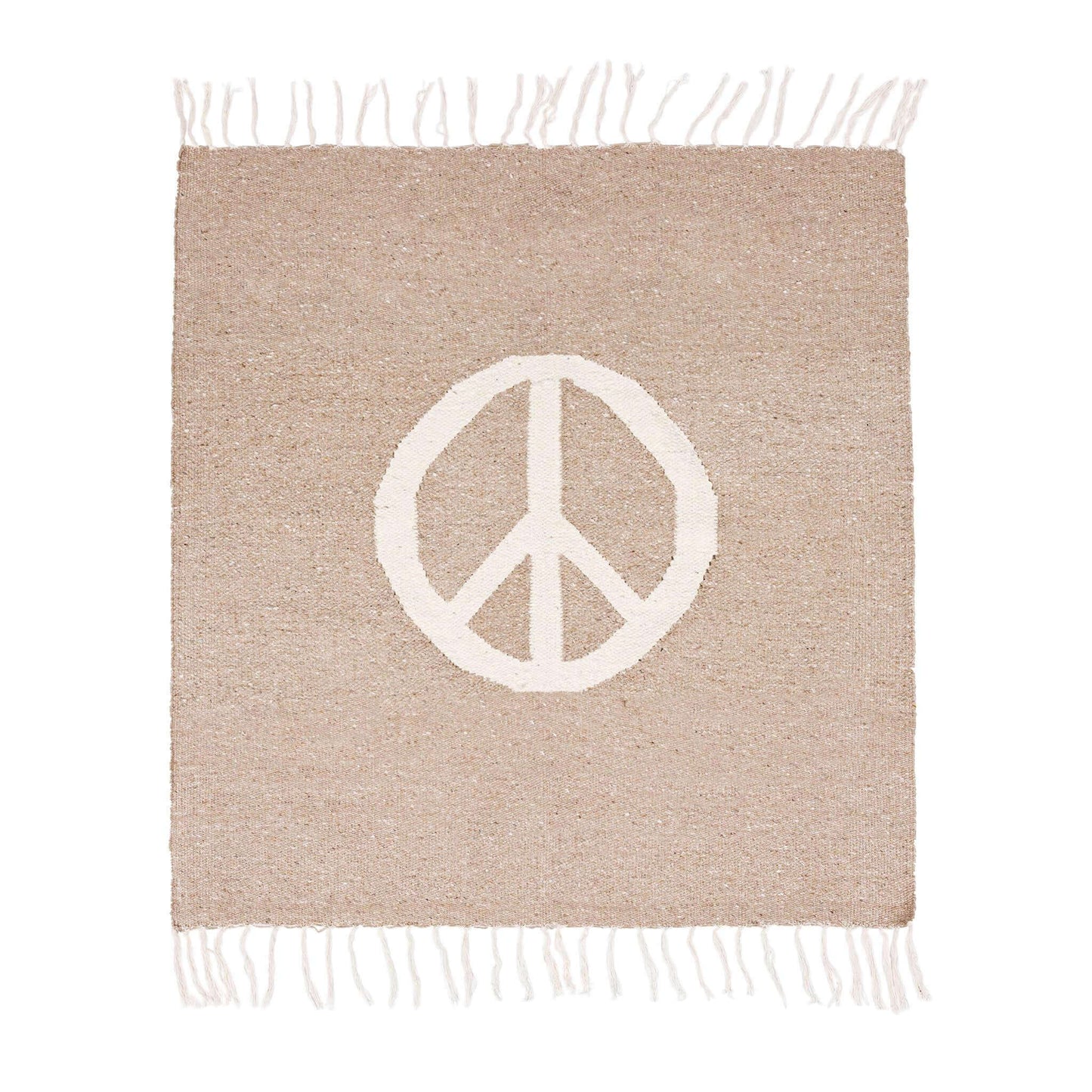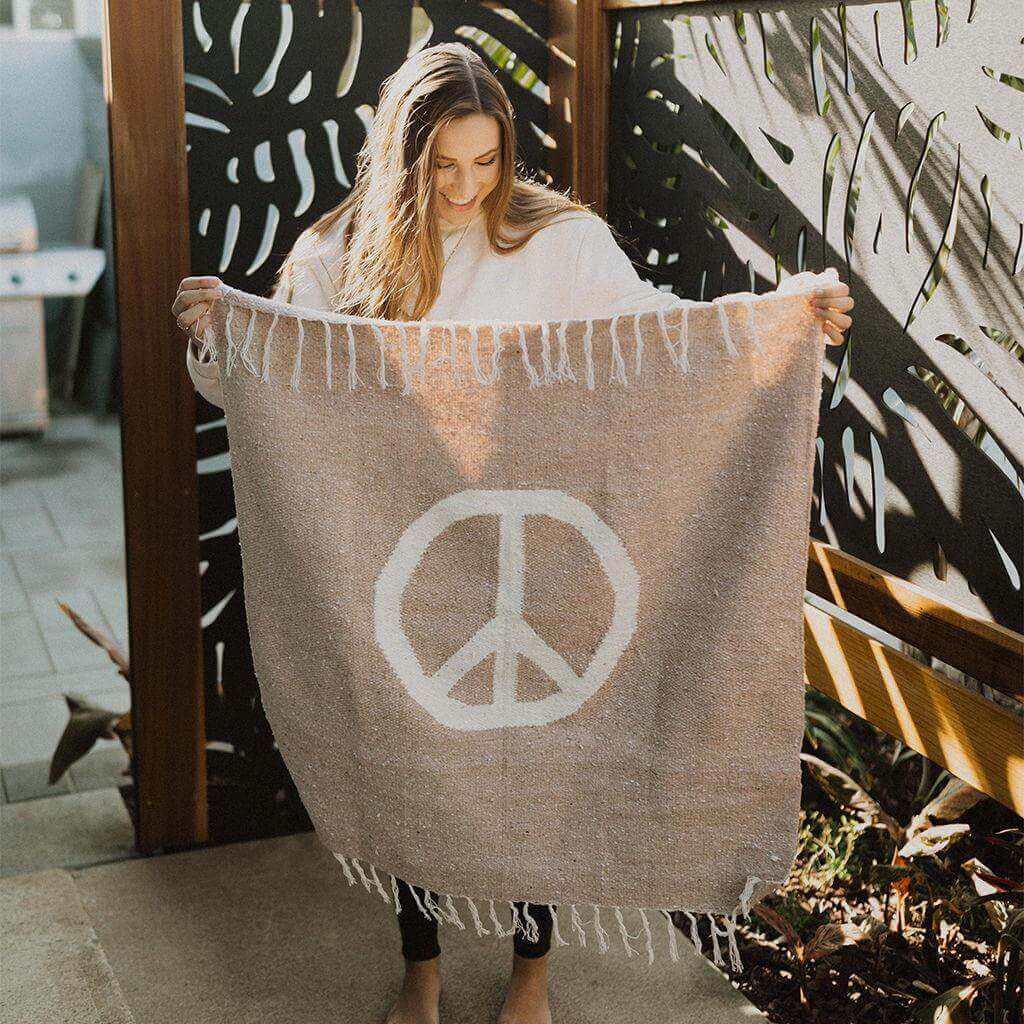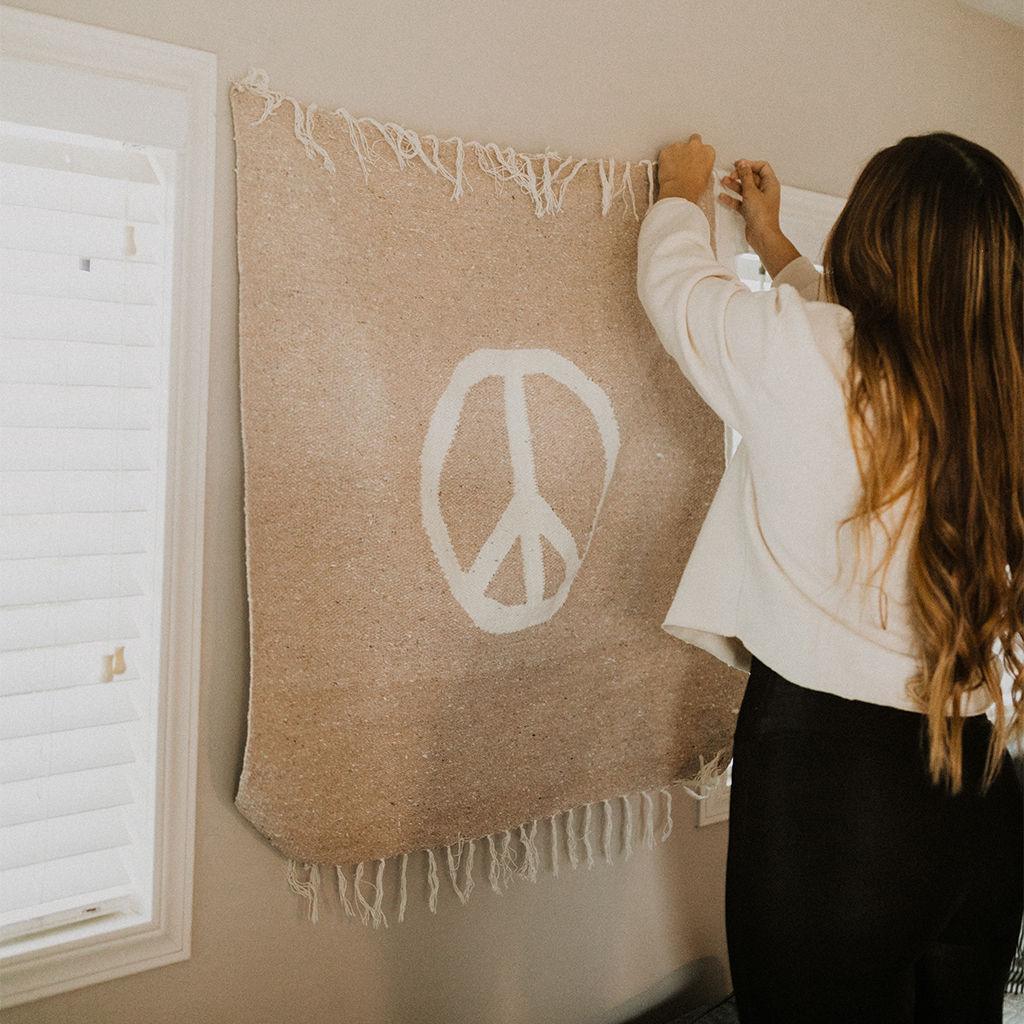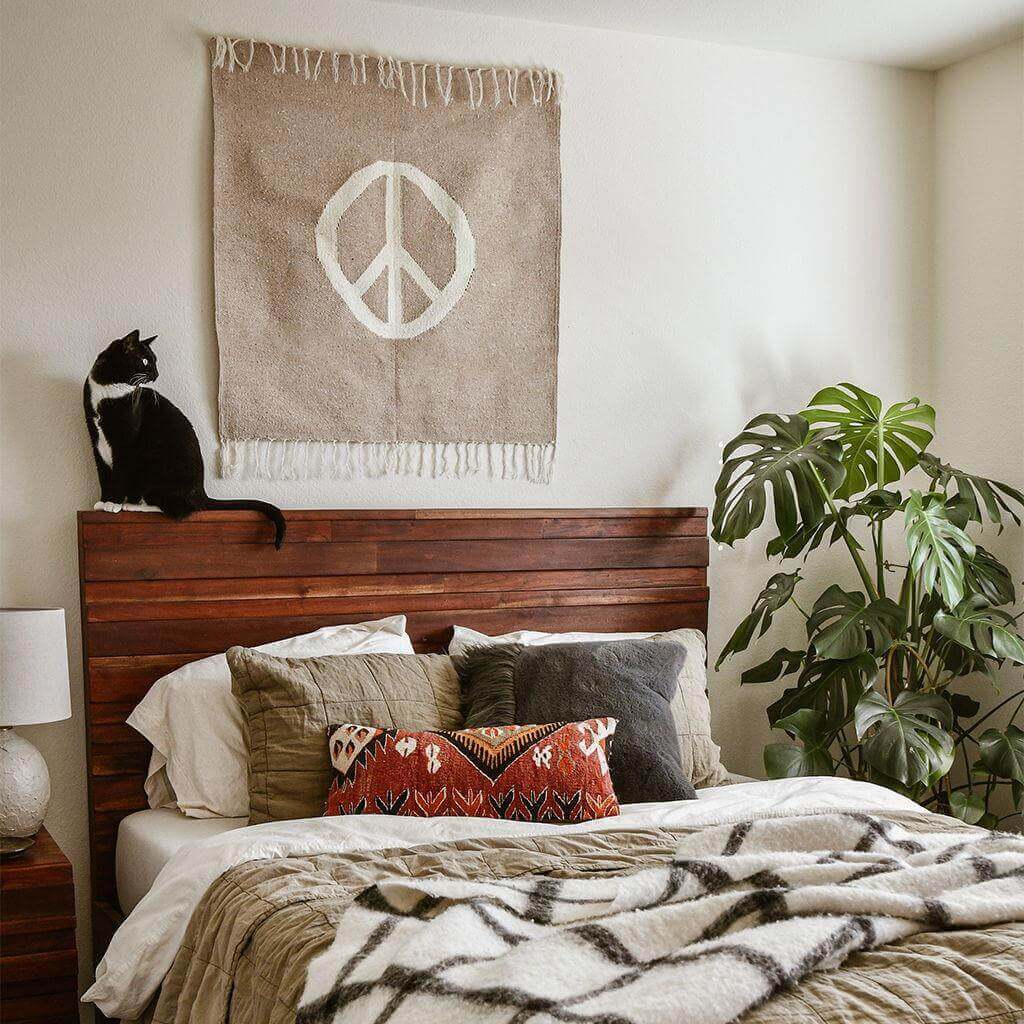 The cats & family love the soft and gorgeous Peace Blanket so much!
Didn't know I bought it for the kitties, but apparently did as it's alwasy all about them!
The family loves it to - so soft, incredibly well made and rich looking. Adds even more warmth and style to our boho-beach house. Love love love! And peace... ;)
Perfect!
This is the cutest piece in our guest room! We hung it abouve the bed and it's perfect.
Mini Adult Blanket
I have anxiety and like to have different items to help ground me. Sometimes I don't want to have a full size blanket with me to carry around and use for security like when you were a kid. This half blanket is perfect for me to use! It softens the more you wash it. The tassels are slightly smaller than the full size blanket. I love this for an easy travel with and I feel grounded but it can provide warmth and comfort. Love it!
A very nice statement of peace
I have this small blanket hanging on the back of my easy chair. I see it throughout the day as I go in and out of my music studio, reminding me of where my inner focus needs to be.
Amazing quality & so unique!
I love this blankestry so much! It's so well made and brings a fun, boho vibe to any room! Perfect as a walk hanging or a small picnic blanket!