Handwoven throw blanket made from 100% upcycled materials.
Regular price
$58.00 USD
Sale price
$46.40 USD
Unit price
per
Sale
Sold out
20% Off
Features

Sustainable
Made from 100% Reclaimed Genuine Leather!

Handmade & One-Of-A-Kind
Every blanket carrier is made by hand and uniquely one-of-a-kind

Artisan Made
Each leather blanket carrier is ethically made by Mexican artisans carrying on centuries of leather skill & tradition

Adjustable
Adjustable straps to carry your Trek Light blanket (and most other throw blankets)

Comfortable
Carrying handle is designed for easy transport

Feel Good
One tree planted for every item sold

The Perfect Blanket Accessory

From music festivals to romantic nights under the stars, and from the back of your truck to the edge of the Grand Canyon - the Leather Blanket Carrier from Trek Light is your blanket's new best friend, and yours too.

Featuring adjustable straps and an easy-to-carry handle, you've now got the perfect way to bring your blanket with you on the road or keep it stored with style at home.
Specs

Style: Handmade Leather Blanket Carrier / Straps

Sizing: Adjustable blanket straps

Materials: 100% Reclaimed Genuine Leather

Super Cool: Every blanket carrier is made from unused leather furniture material saved from the landfill!

Perfect For: picnics, yoga, camping, travel, blanket storage, van life, and more. It turns out you can also awkwardly wear it around your legs and use the handles to lift your legs when they get tired, but don't ask us how we know that

Origin: Handmade In Mexico
Handmade Item

A Uniquely Handmade Artisan Item

Our leather blanket straps are not machine-made clones, and that's what makes them special.

Ever leather blanket carrier is handmade in Mexico using 100% reclaimed leather. To learn more about the materials and process, see the How It's Made tab on this page.

As a handmade one-of-a-kind item, you should expect to find slight variances or imperfections and the leather color or minor design details may vary slightly from the pictures on our site. These variations are what make your carrier unique, and you always have our guarantee that what you're receiving is of the highest quality.
How It's Made

Made Ethically & Sustainably By Mexican Artisans

It all begins with furniture.

All of our leather comes from a furniture maker in Mexico who was previously discarding these excess strips of leather that are a natural part of the manufacturing process.

Every leather blanket carrier is made from these reclaimed leather materials. Reclaimed doesn't mean it's already used or recycled, every piece is brand new genuine leather that just needed a purpose to prevent it from becoming waste.

By repurposing perfectly usable high-quality leather and preventing it from ending up in the landfill, we're able to minimize our environmental impact and create less waste for the planet.

Every blanket carrier is then ethically handcrafted in Mexico by local leather artisans continuing a long tradition of craftsmanship and creativity.
Give Back Impact

Feel Good. Do Good. Pass It On.

For every item sold, we work with Trees For The Future to plant a tree in your honor.

Why is that so powerful? By helping small farmers and villages around the world with the planting of fruit & vegetable trees, shade trees and more, together we're going beyond basic environmental change.

Trees For The Future uses a Forest Garden approach to reforestation - planting trees to not only provide environmental benefits, but also food, income, and community agriculture where it's needed most.

Every purchase creates a chain reaction of good and happiness in the world, and it all starts with you.
Our Promise

Our Happiness Guarantee

We want you to be happy with what you buy from us, period. If you aren't, you've got our promise that we'll always do whatever we can to bring you happiness.

Within reason, right? Maybe you're sad because everything in our store doesn't cost $1 - well, we need to have some rules so we can survive as a small business.

What matters is that we're here for you.

We truly care about your happiness, and will always do what we can to help - maybe it's a discount on your next order, store credit for a future purchase, or just going out of our way to make sure that the next item you buy from us is exactly what you want.

30-Day Easy Returns & Exchanges

If for any reason you're not happy with anything you ordered from us, just send it back to us within 30 days by following the instructions on our returns page.

The product must be in unused or 'like-new' condition - you're welcome to try a product to make sure you like it, but we cannot accept returns that are abused, stained, washed/laundered, or damaged (unless it's the result of a manufacturer's defect).

Holiday Extension: All purchases made in November or December will be allowed an extended return window thru 1/31. We'll make it easy for the gift recipient to handle any returns or exchanges!

To view our full return policy details and initiate a return/exchange of your product, just click the button below:
"My Trek Light blanket is my favorite thing ever! I want to take it with me everywhere I go, but I just can't figure out how to look cool when I'm carrying a blanket. Can you help?" - Anonymous
Well, my anonymous friend, we're glad you asked because we've got just the thing to solve all your blanket carrying needs.
Introducing the handmade, artisan-crafted, leather blanket carrier from Trek Light - made with 100% Genuine Reclaimed Leather.
Yeah, it's super cool.
Because of their handmade nature, the color and details may vary on each item (see the Handmade tab for details).
View full details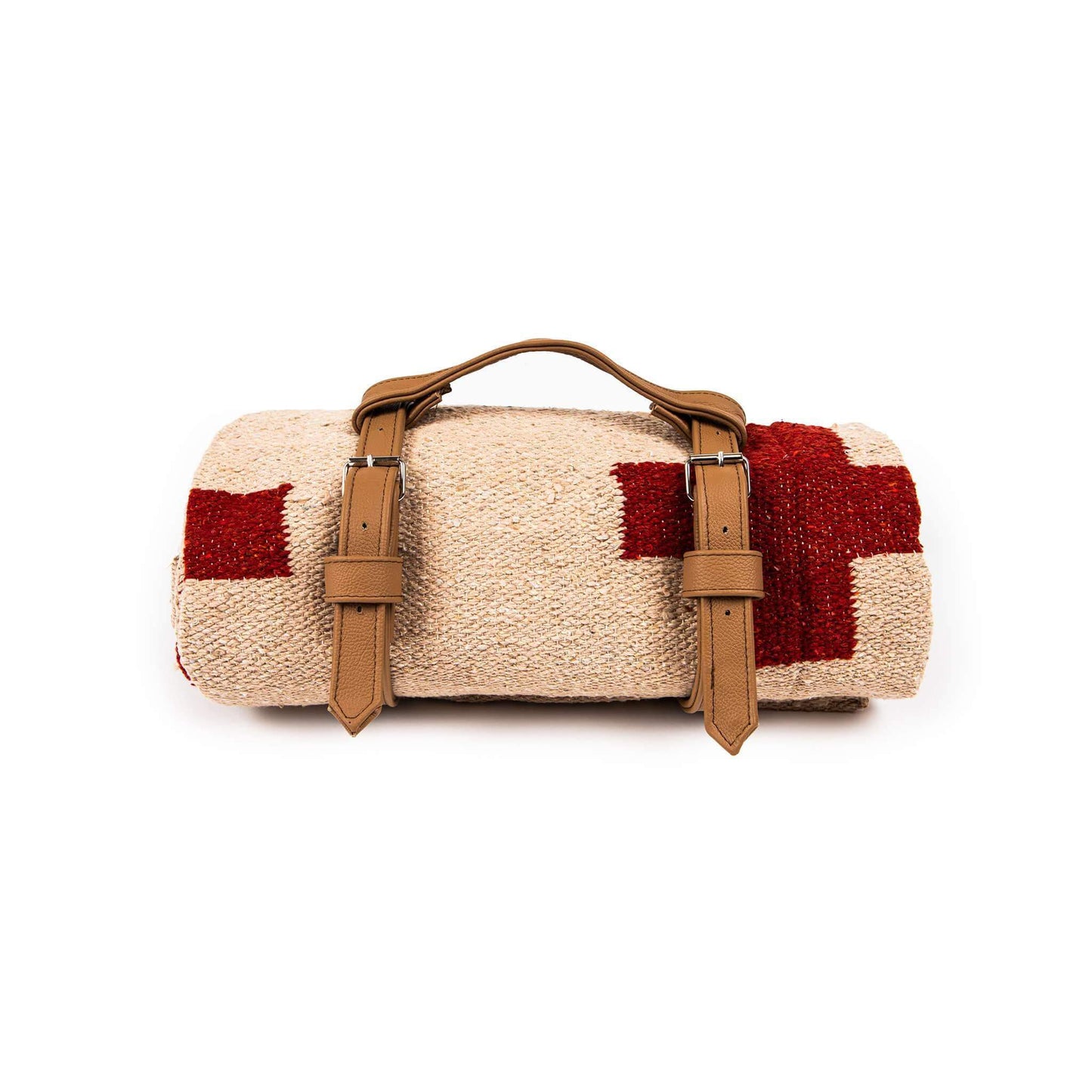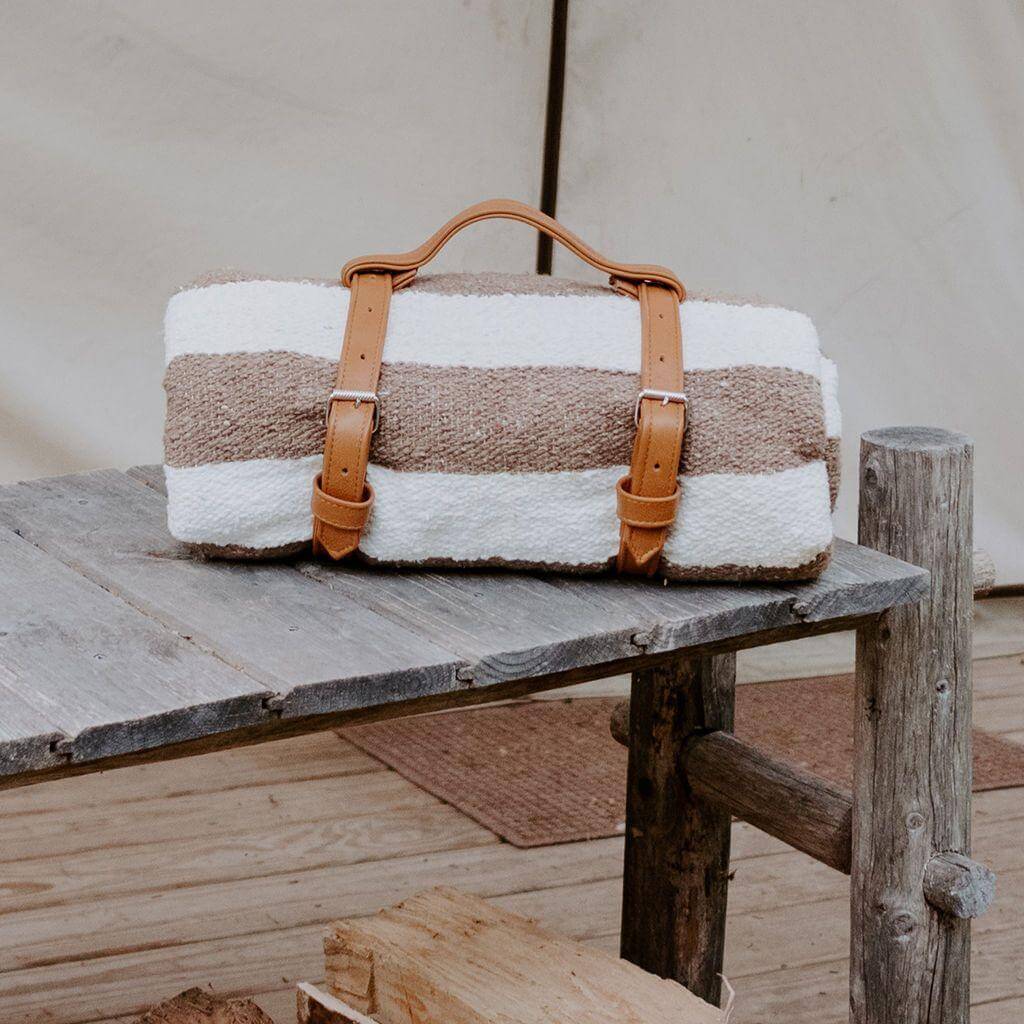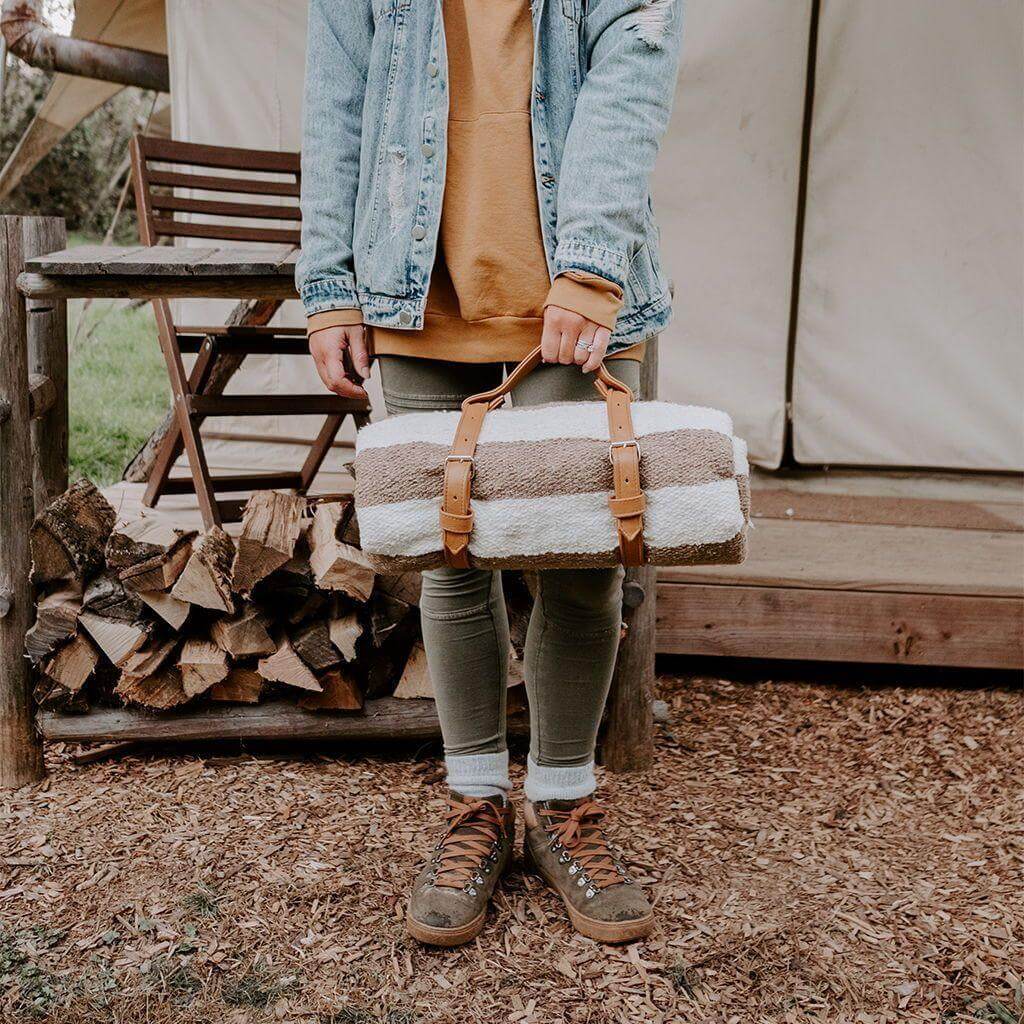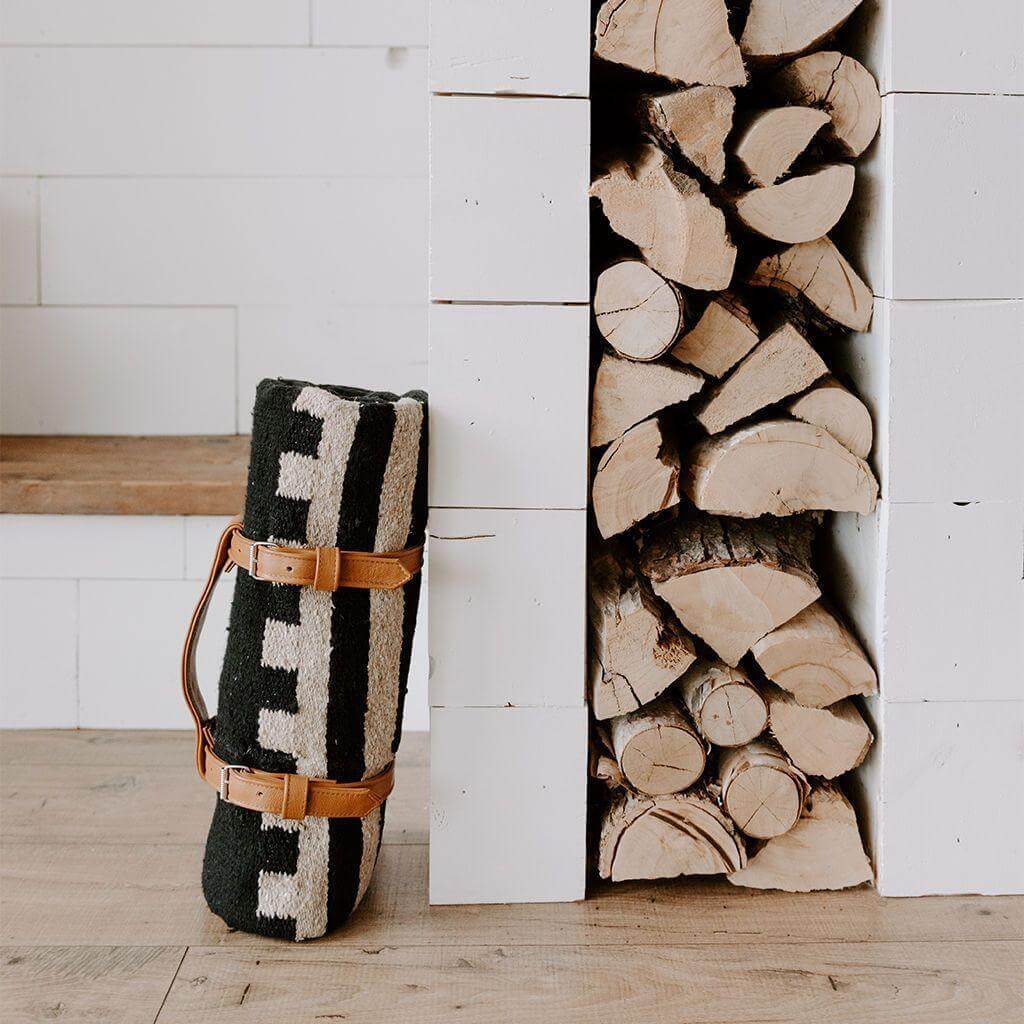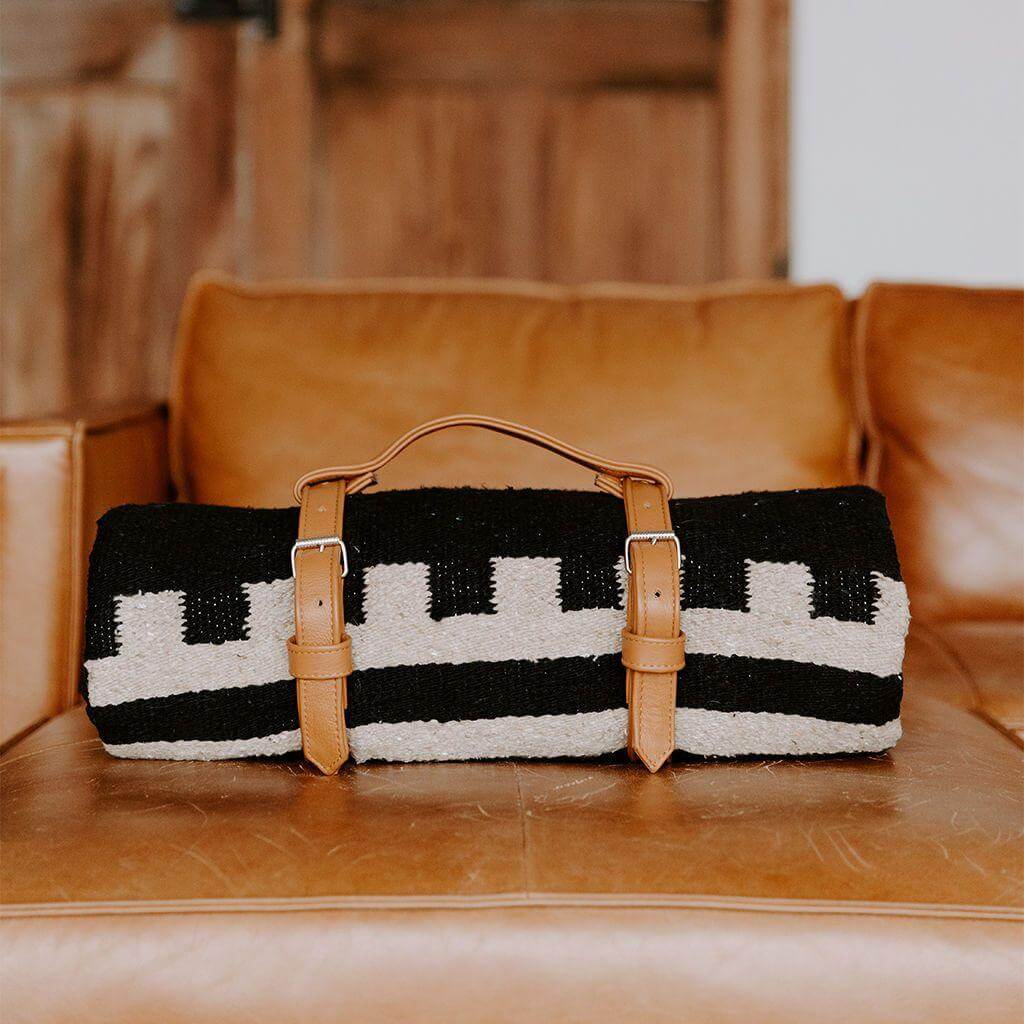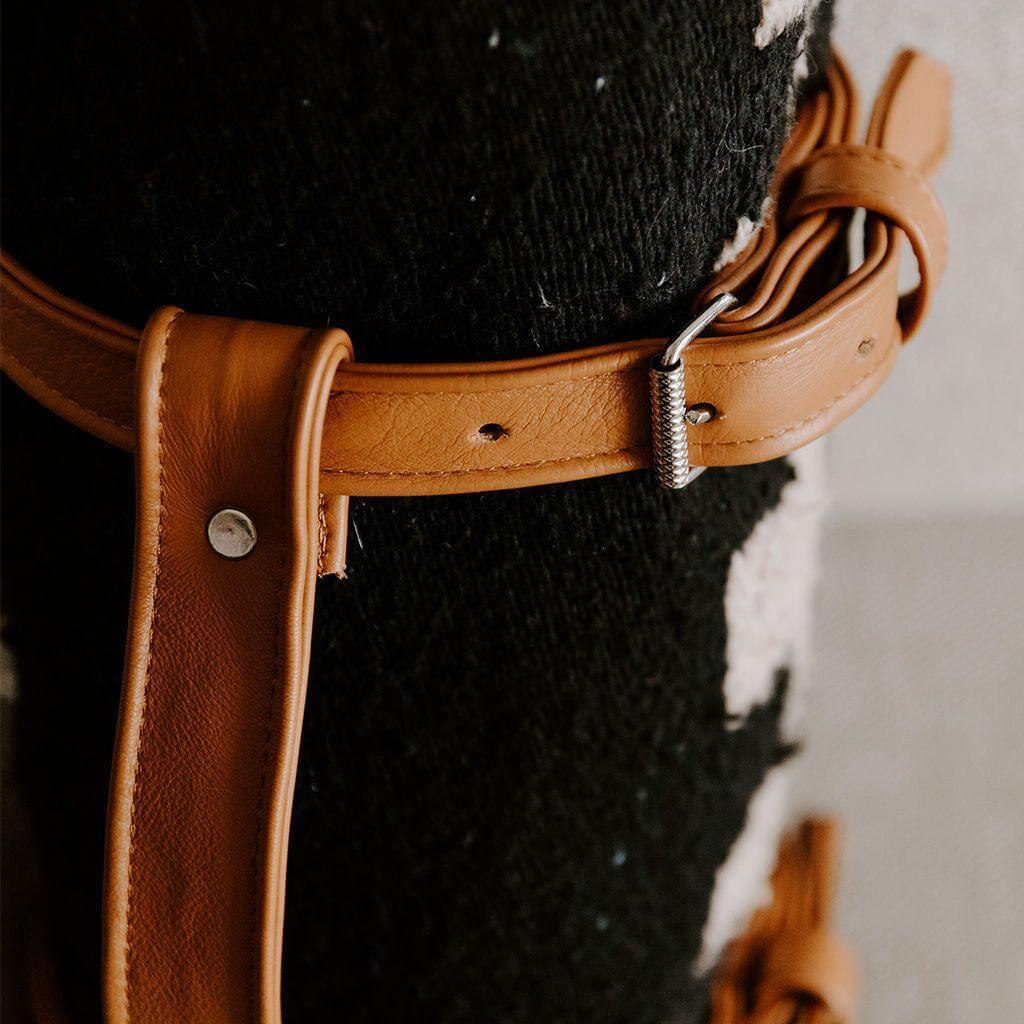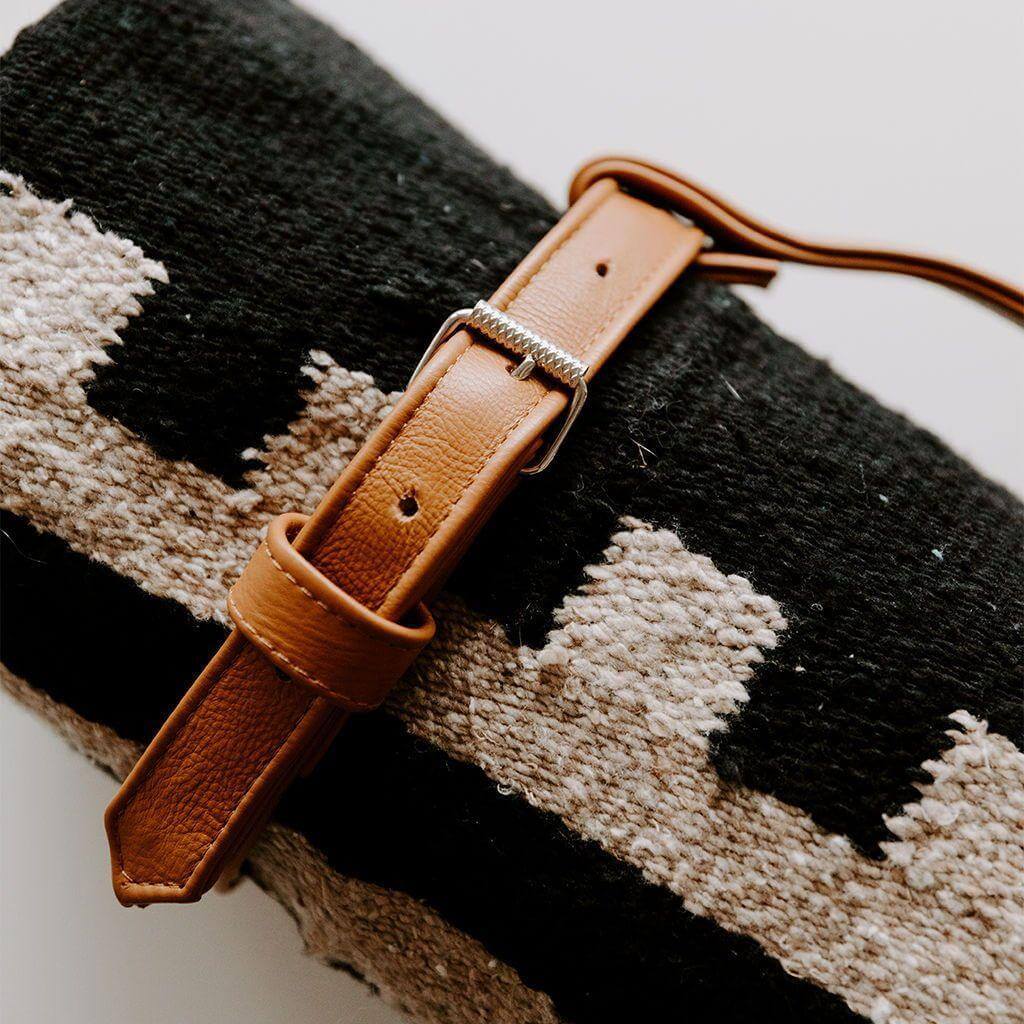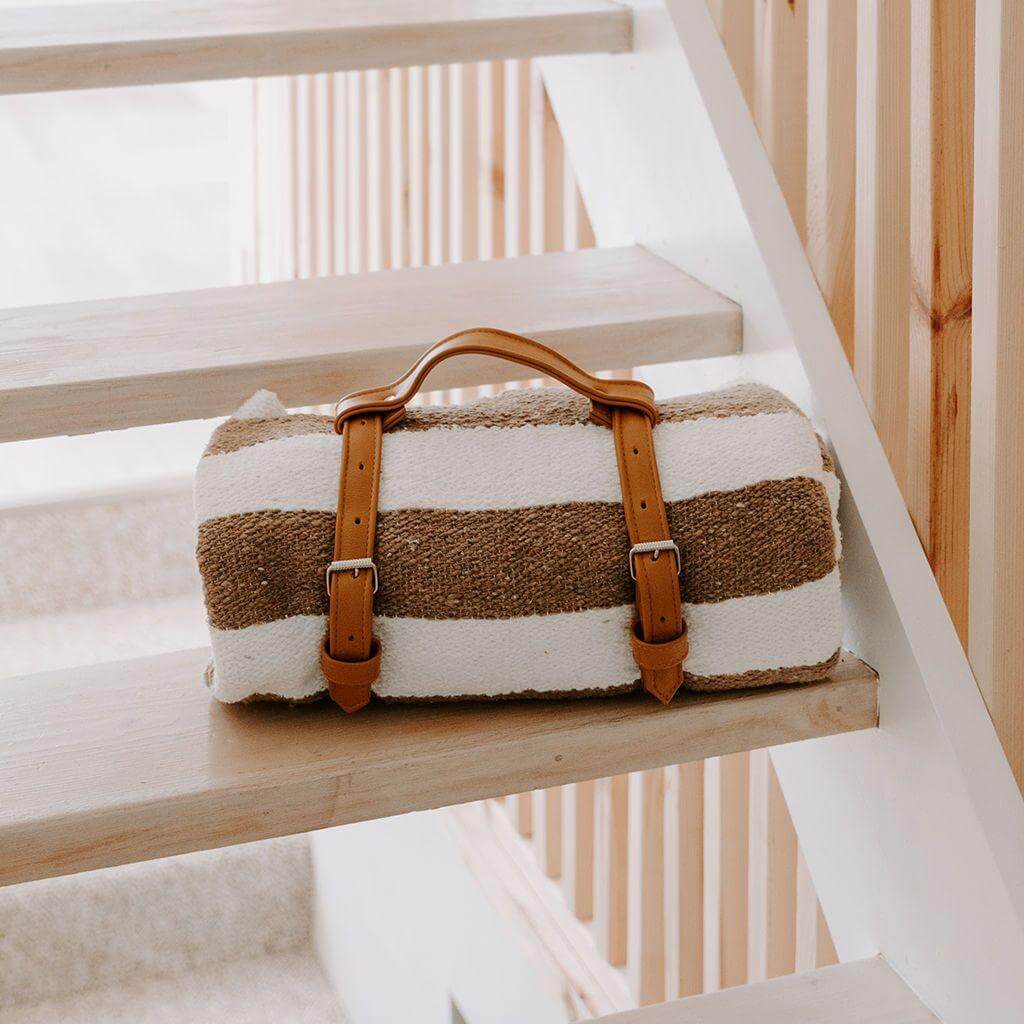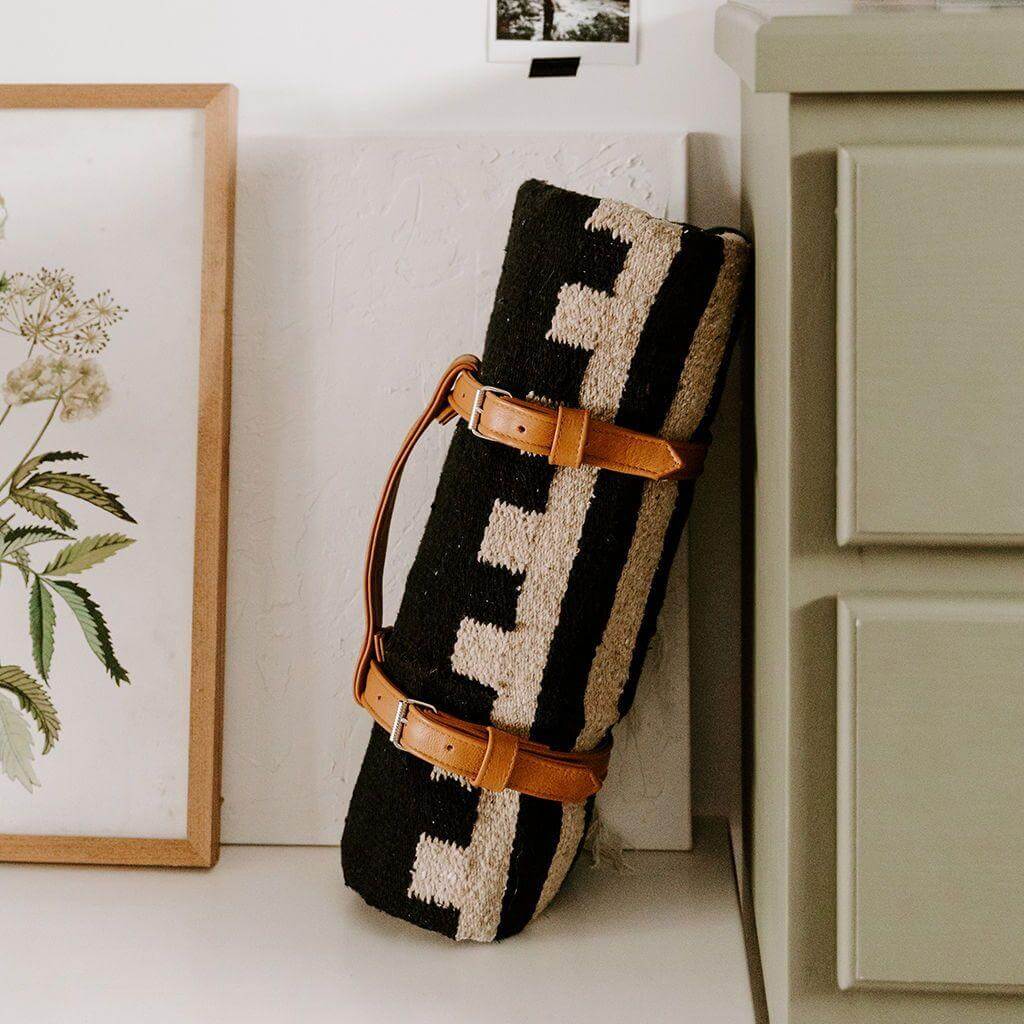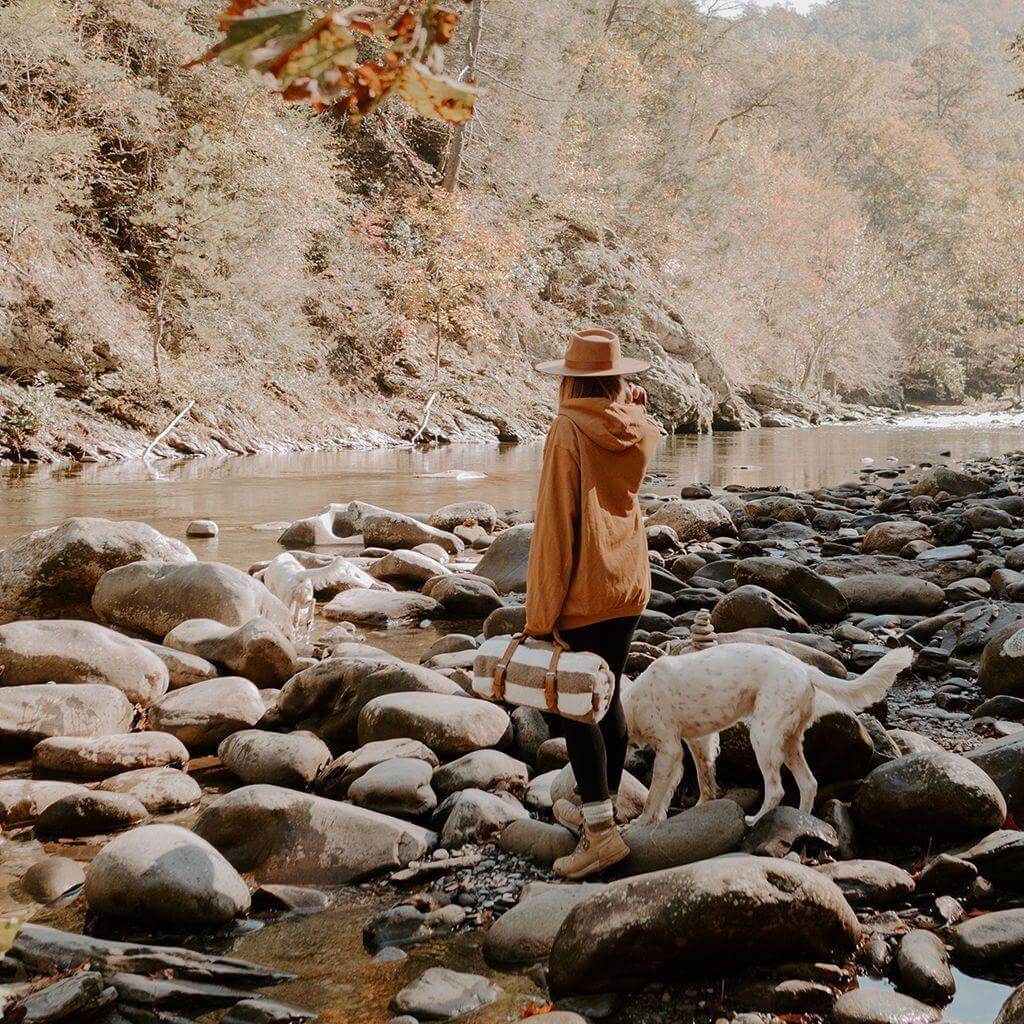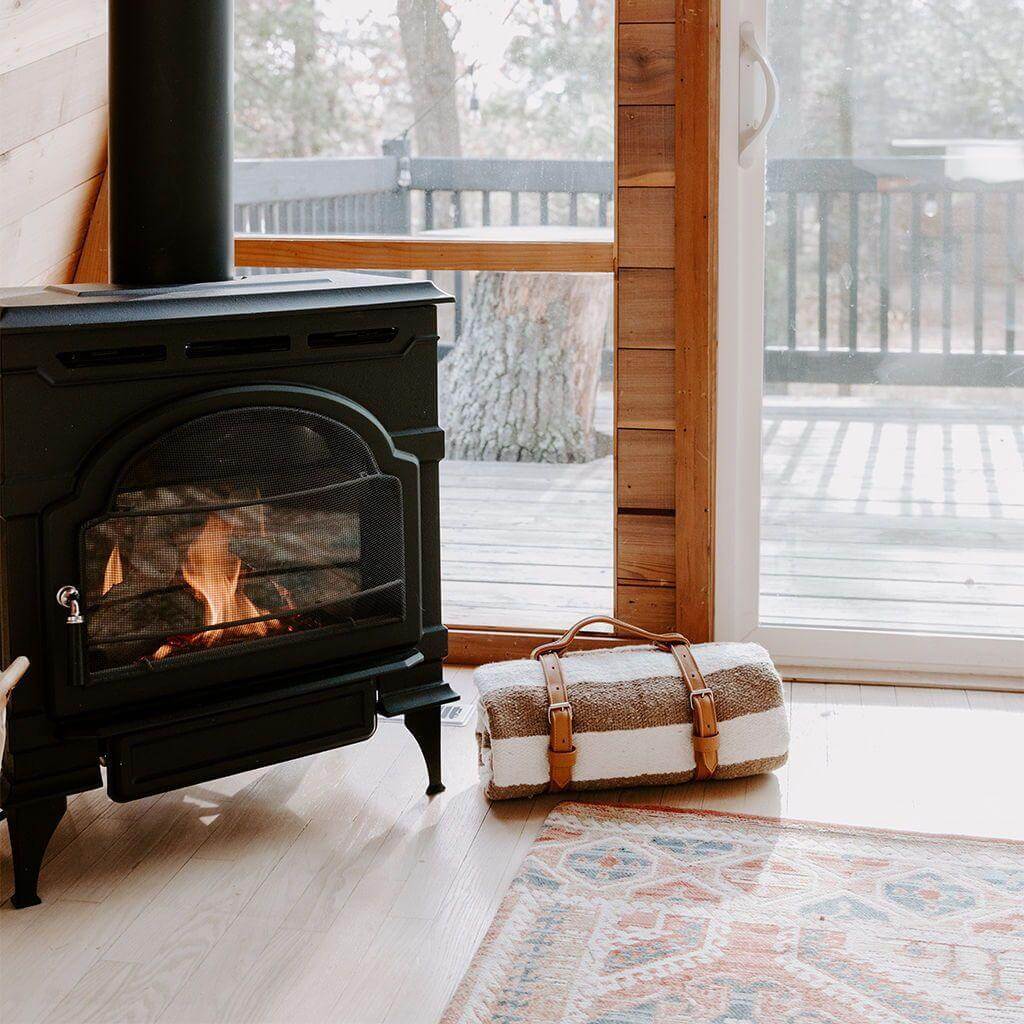 FREE shipping & easy returns
Free shipping & easy returns We offer free, fast shipping on orders over $100 within the USA.

Every purchase plants a tree
We work with Trees For the Future to plant a tree for every purchase.

30 Day Happiness Guarantee
If for any reason you're not absolutely thrilled with your new products, you can return it, hassle-free, within 30 days.
Commonly asked questions about our blankets
Questions? We Have Answers
Are your blankets machine washable?

Our blankets are designed for ease of care. All of our blankets can be machine-washed on a cold delicate cycle and air-dried.
For the absolute best results, we recommend dry cleaning the blankets as it will always be the safest and most gentle process for them.
Why are your blankets so expensive?

Our blankets are handwoven by highly skilled Indigenous artisans, ensuring a unique and high-quality product. While there might be cheaper factory-made alternatives, the value lies in the craftsmanship, tradition, and sustainability of our blankets. Each Trek Light Blanket is crafted with utmost care and precision, ensuring it lasts for years. The handwoven technique not only adds to its charm but also its durability. We deeply respect and value the Indigenous artisans we collaborate with. Fair compensation and ethical practices are at the core of our business model.
What about shipping and returns?

We offer free, fast shipping with all blanket orders. Most orders ship out within 1-2 business days.

If for any reason you're not thrilled with your new blanket within the first 30 days, just let us know and we'll send you a return label to send it back to us.
How big are your blankets?

Sizing: Throw Blanket
Approx. Length: 6.5ft / 2m
Approx. Width: 4.1ft / 1.3m
Approx. Weight: 3.3lbs / 1.5kg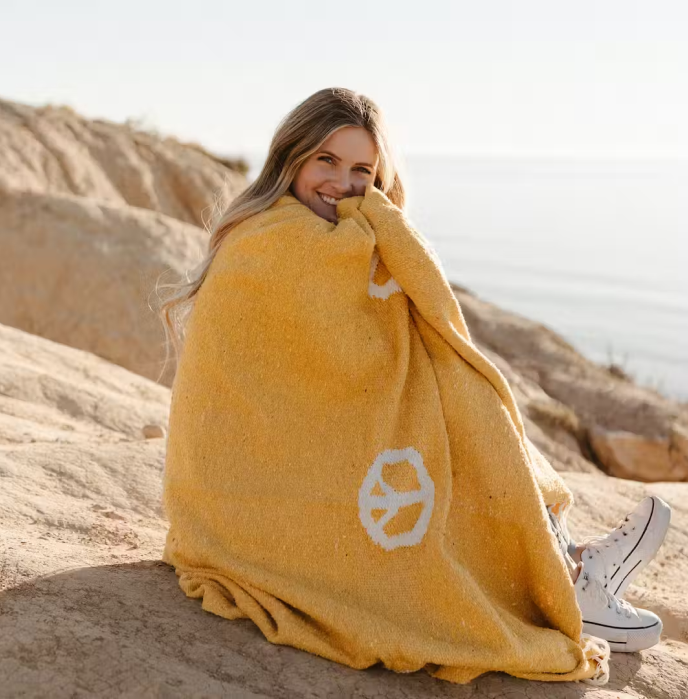 5 Reasons Why Thousands Are Going Crazy Over These Handwoven Blankets
🧵 Artisan Made Each blanket is handwoven by Indigenous artisans, preserving a rich heritage and promoting self-determined work conditions.

✨ One-Of-A-Kind Every Trek Light Blanket, handwoven on traditional looms, showcases unique artistry and cherished imperfections.

🌍 100% Sustainable Our blankets repurpose excess clothing materials into upcycled yarn, diverting waste from landfills.

❤️ Gets Softer With Each & Every Use The Trek Light Blanket grows softer with each use, offering durable warmth and luxurious comfort for every adventure.

🌳 Every Blanket Sold Plants A Tree in Your Honor. For each blanket sold, we collaborate with Trees For The Future to plant a tree, benefiting global communities and the environment.
Shop Blankets
Long lasting, durable, high-quality blankets that get softer with each use.
Timeless Blankets For Life's Adventures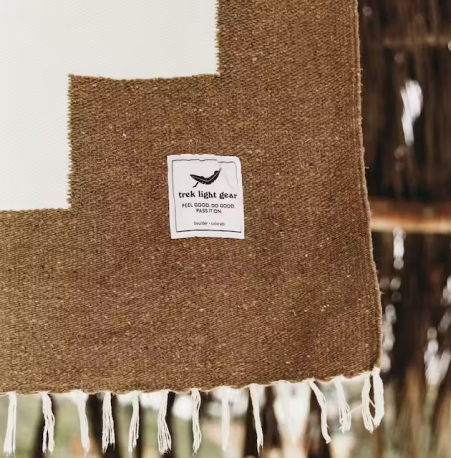 Masterfully Woven
Every blanket is carefully handwoven using a traditional wooden pedal loom by Indigenous artisans continuing a long tradition of craftsmanship and creativity.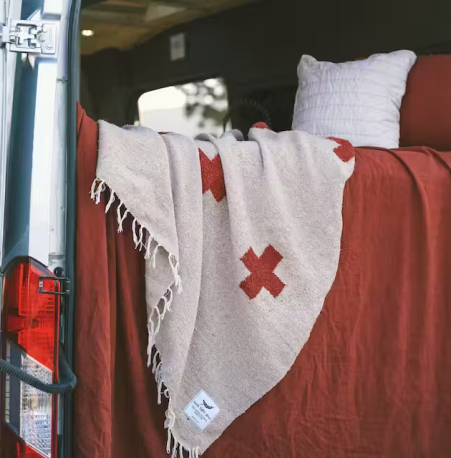 Durable & Resilient
Our one-of-a-kind soft, comfortable blend of yarn is moisture-wicking, built to handle daily wear and tear and is woven to resist shrinkage and wrinkling.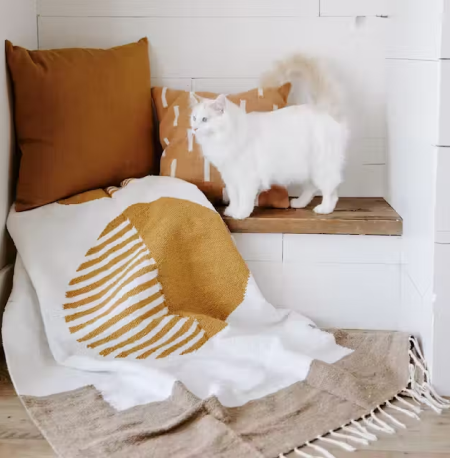 Comfort & Functionality
We know how much you depend on your gear to keep you warm, dry and comfortable through every adventure. That's why each blanket is made to be as functional as it is beautiful.
PEACE!!
Oh, you simply can't imagine how much I LOVE this Blanket and Carrier!! It is: #Peace#Love#MustHave
Wonderful hiking gear
This was a gift to our sone who loves day hiking and visiting the local pond. With the carry strap, he's able to bring his Trek blanket along with him as an easy place to rest. He's loves it!!!
Love all of these blankets
I love all of these blankets. The lazy daisy blank though is more of a rust red than a true red but I'm okay with that.
I got the Halley's comet for my Daughter in Idaho. I'm sure she will Love it. Thanks Best thing a Dad could do.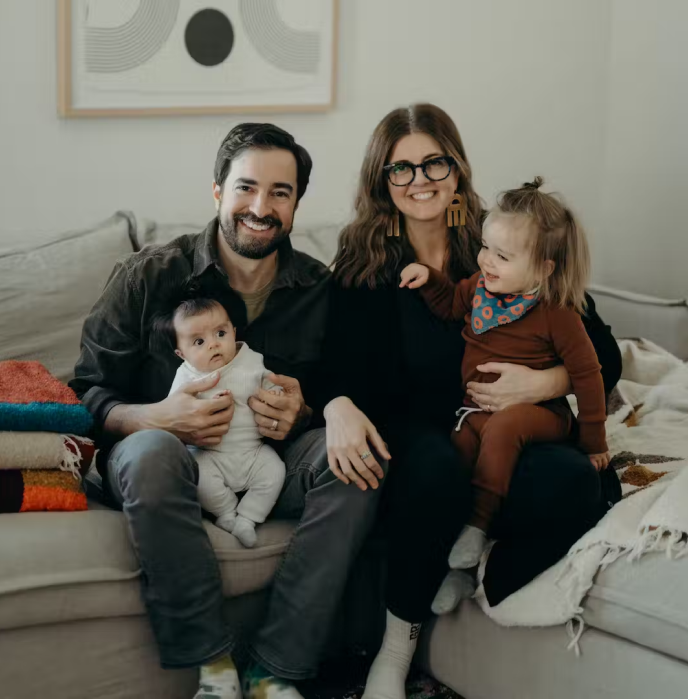 Feel Good. Do Good. Pass It On.
Small Business, Big Heart
We started Trek Light 20 years ago in Boulder, Colorado with a simple mission: to build a business with heart. A business that would be centered on happiness, a business that would give back with every sale, and one that would inspire its customers to share that happiness with others. Today, two decades in, our mission continues stronger than ever.

Thanks for being part of our story. Thanks for supporting a business with heart. And thanks for being you.

Seth & Heather
Shop Blankets
100% Sustainable Practices
Each Blanket Diverts Waste From Landfills
Every blanket is made from 100% excess clothing materials that otherwise would end up in the landfill - first, they're shredded into a pulp and then transformed into high-quality yarn.

The best things aren't made in factories. And that's why many of our artisans also continue the tradition of home weaving - allowing them to determine their own hours, wages, and workload.
Shop Blankets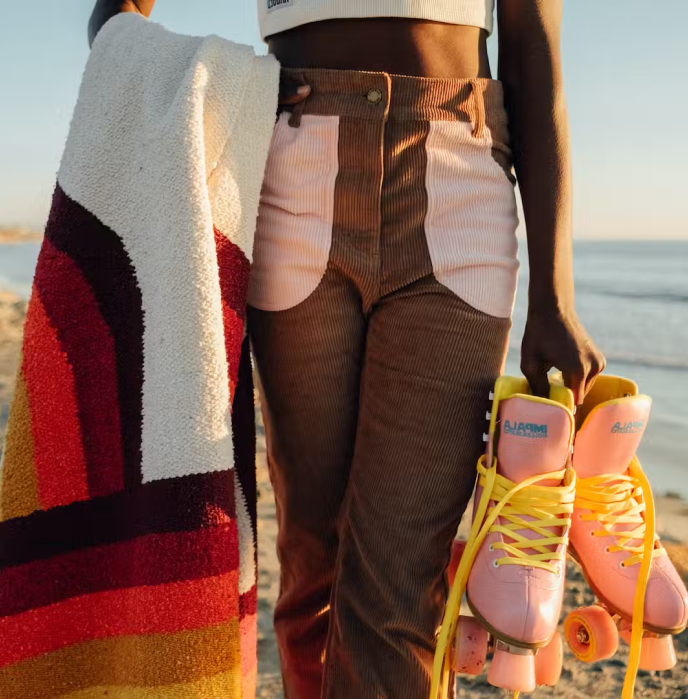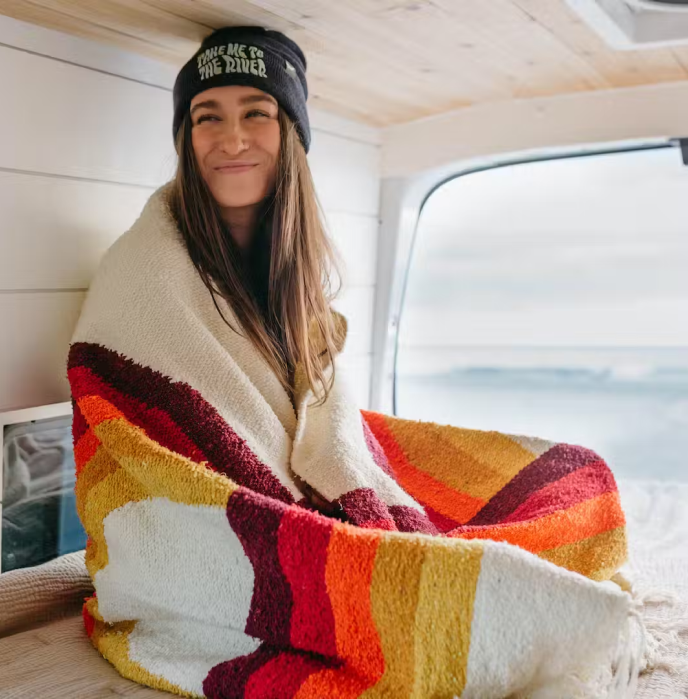 A Uniquely Handmade Item
These aren't machine-made clones—every Trek Light Blanket is woven by hand on a traditional handloom. The artistry of the weaver is in every piece, and that truly means that every blanket made and sold is a unique, one-of-a-kind work of art. That means you should expect variances! Imperfections and variances are exactly what makes handwoven art special (just like you)!
Shop Blankets
Elevate Any Living Space Instantly
More than just warmth—it's a statement piece. Handwoven with passion, each blanket infuses spaces with vibrant energy and artisanal charm. Drape it anywhere, and watch the room come alive with history and craftsmanship. In a world of generic decor, let our tactile art be the authentic touch that sets your space apart.
Shop Blankets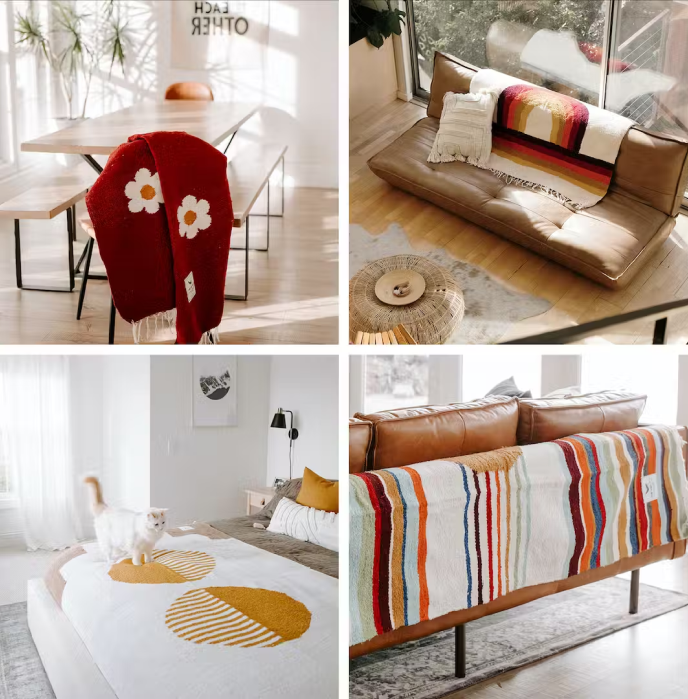 30 Day Money-Back Guarantee
We sell products designed to bring you happiness. We give back with every purchase to spread that happiness around the globe. If for any reason you're not absolutely thrilled with your new Trek Light Blanket, we'll send you a return label.
Choose My Blanket