CLOSEOUT ITEM (FINAL SALE)
Regular price
Sale price
$19.95
Unit price
per
Sale
Sold out
Description

The Unforgettable Trek Light Eco Tote

The Deluxe Eco Tote is the ultimate compact, reusable utility bag and our go-to grocery shopper because of its awesome over-sized capacity.

While it shines for groceries, this is your new go-everywhere tote - it's an amazing utility bag around the campsite for food or trash when you're camping or backpacking, it's a great gym & yoga bag, the list goes on... 

We gave our Classic Eco Tote an upgrade and created an instant best-seller in the process. The Deluxe Eco Tote is comparable in size to an average beach bag, pool bag or large canvas tote and can hold up to 50lbs!

Reusable bags not only cut down on massive amounts of plastic waste, they also make your life easier - you can stop worrying about your bags breaking on the way to the front door and you can carry a lot less baggage, especially with the awesome capacity of the Deluxe Eco Tote.


But what good does it do you to have a reusable bag if you forget it at home? Trek Light's Eco Totes packs down to a tiny pocket-sized pouch and have a convenient keychain clip attached. Keep them on you or stash them easily in your car, backpack, etc.

Trek Light's Eco Totes are unforgettable - in every way. (Yeah, we did)

When you use this bag, you change the world.

Plastic waste is killing our planet.

Made from the excess material leftover from our hammock manufacturing, the revolutionary Trek Light Eco Tote does double duty to save the world - cutting down on our own waste while providing a product that allows you to do exactly the same.

Why is it so important to carry and use a reusable shopping bag?

60,000 plastic bags are used every 5 seconds in the U.S alone, and only 1-3% of these bags are recycled. That means the rest of those bags make their way into landfills, streams, and oceans.

Even worse - every plastic bag can take as long as 1,000 years or more to decompose. Read that again, that means every single plastic bag that's ever been thrown away or discarded is likely still in existence, clogging our landscape and killing our wildlife.

Paper bags fare slightly better on the recycling front, but we still have to cut down about 14 million trees each year to make them. Most paper bags get only one single use before they break, tear or are discarded.

Go Beyond Groceries

Even if you're already in the habit of taking a reusable bag to the grocery store, do you remember to use it to bring your lunch to work? To take that bottle of wine and your latest culinary creation to your next dinner party? 

Trek Light's Eco Tote Products can be used for anything you currently use a plastic bag or canvas tote for - including everything from packing your trash out on your next backpacking trip or going green next Halloween with a reusable Trick or Treat bag for the kids. They also make great bear bags for hoisting your food into a tree on your next camping adventure.

Your Trek Light Eco Tote can be cleaned easily, reused over and over again, and like all of our products you can rest easy with our Lifetime Warranty and Happiness Guarantee.

Plastic waste is a crisis, the solution fits in the palm of your hands.
Specs & Features

Features

70D / 210T Tear Resistant High-Grade Parachute Nylon
Water Resistant finish
Holds up to 50lbs, weighs only 3oz.
Compresses to a pocket-sized pouch
Carrying pouch remains attached (never lose it!) and functions as a pocket for your phone, keys, wallet, etc.
Made with the same high-grade material as our hammocks = the lightest and strongest reusable bag on the market
Easy to clean, quick drying, anti-rot and mildew

Specs

Height: 19in / 48cm
Width: 22in / 56cm
Weight: 3oz
Max Carry Weight: 50lbs
Pouch Size: 4in x 2.5in (uncompressed)
Lifetime Warranty & Happiness Guarantee
Give Back Impact

Feel Good. Do Good. Pass It On.

For every item sold, we work with Trees For The Future to plant a tree in your honor.

Why is that so powerful? By helping small farmers and villages around the world with the planting of fruit & vegetable trees, shade trees and more, together we're going beyond basic environmental change.

Trees For The Future uses a Forest Garden approach to reforestation - planting trees to not only provide environmental benefits, but also food, income, and community agriculture where it's needed most.

Every purchase creates a chain reaction of good and happiness in the world, and it all starts with you.
Our Promise

Our Happiness Guarantee

We want you to be happy with what you buy from us, period. If you aren't, you've got our promise that we'll always do whatever we can to bring you happiness.

Within reason, right? Maybe you're sad because everything in our store doesn't cost $1 - well, we need to have some rules so we can survive as a small business.

What matters is that we're here for you.

We truly care about your happiness, and will always do what we can to help - maybe it's a discount on your next order, store credit for a future purchase, or just going out of our way to make sure that the next item you buy from us is exactly what you want.

30-Day Easy Returns & Exchanges

If for any reason you're not happy with anything you ordered from us, just send it back to us within 30 days by following the instructions on our returns page.

The product must be in unused or 'like-new' condition - you're welcome to try a product to make sure you like it, but we cannot accept returns that are abused, stained, washed/laundered, or damaged (unless it's the result of a manufacturer's defect).

Holiday Extension: All purchases made in November or December will be allowed an extended return window thru 1/31. We'll make it easy for the gift recipient to handle any returns or exchanges!

To view our full return policy details and initiate a return/exchange of your product, just click the button below:
Fact: You can't spell 'plastic waste' without 'cattle wasps'.
Coincidence? Probably. One thing is for sure, we don't really like the sound of either.
This bag won't protect you when the wasps come, but it will definitely cut down on plastic waste. And that's arguably the more sensible way to save the planet.
The Eco Tote Deluxe is extra big and extra awesome. (If you're looking for our Classic Eco Tote size, we retired it - this has always been our most popular and best-selling model for good reason!)   
View full details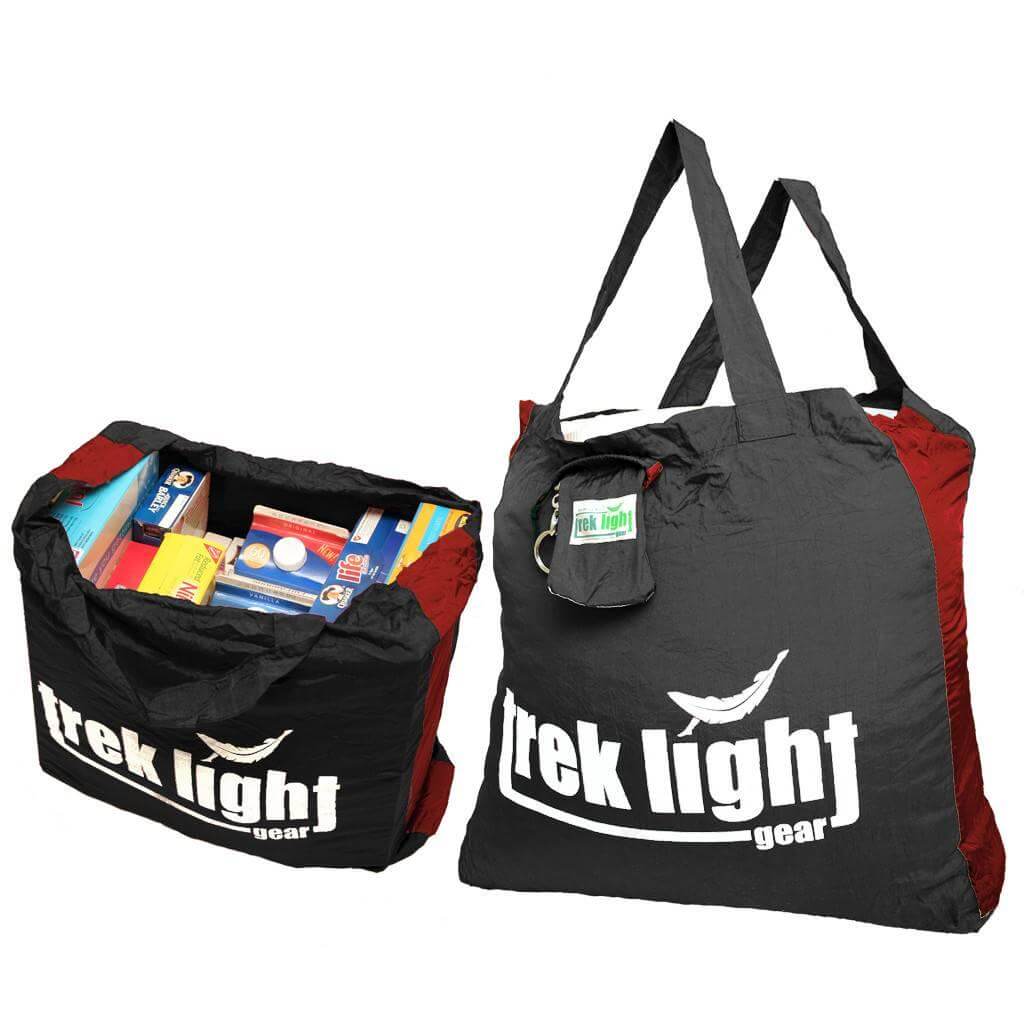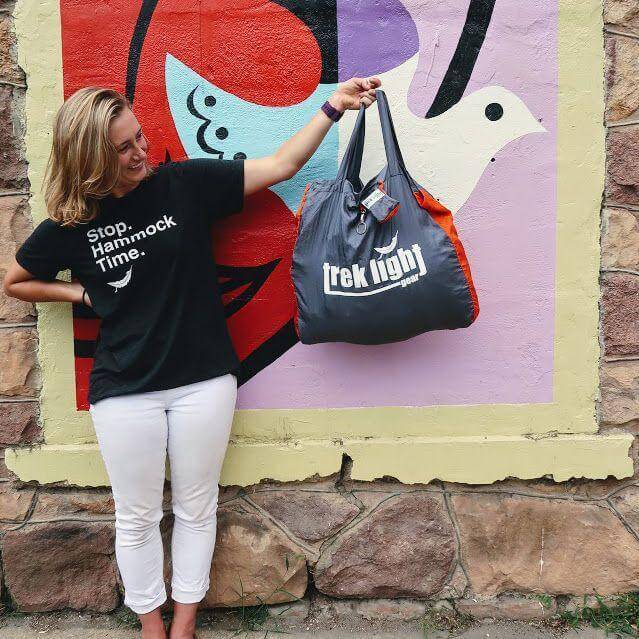 Strongest tote out there
I ordered the Trek tote bag recently. I never thought I'd have to actually put it to a test, but my husband was admitted to the hospital last week and the amount of stuff I had to remove at the end of his stay was ridiculous. The tote must have been pushed to its limits, but I schlepped that thing back from ther hospital holding clothing, a computer, and so much paraphernalia. Well done indeed.
Eco tote
Perfect tote. Takes up no space and super light but can accommodate unbelievable amount of stuff. Strong and stretchy. Folks in grocery line watch like it's a magician's trick as cashier can get entire cart in one bag. My kids liked for their snow pants, boots, and gear to lug to school so I had to buy two more. Great product!
Great tote!!
I have been waiting for these to be back in stock. Had one a few years ago and loaned it to a friend in India and it's still there. They are so durable and hold a lot. When traveling they barely take up any space and unfold to a large bag when you need it. Will be watching for more colors to buy more (purple would be nice). Love all of Trek Light Gear products!
Easy to be green!
What a great product and great idea. No excuse now to not have a reusable bag ready for just about any use: groceries, library books, etc. I keep mine in my daily use backpack in case I pop in a store for a few items. Durable, compact, and handy!
Best re-usable bag!!!
We have tons of reusable bags, and these are hands down my favorite!! They are super durable, carry a ton of groceries, and pack super small to stay easily stored in my purse!