Regular price
Sale price
$169.95
Unit price
per
Sale
Sold out
Description

Hammock Camping Starts Here

Are you ready to 'Think Outside The Tent'?

If you already own a hammock, or you're buying one right now (high five!), the Bug & Rain Accessory Kit is exactly what you need to stay completely bug-free and protected from the elements on any hammock adventure. If you're buying this today we're even a little jealous, you're going hammock camping!

Kit Includes:
(1) Bug Free Hammock Shield
(1) V9 Strong Tarp


Read This Article: Hammock vs. Tent: 5 Reasons To Begin Hammock Camping Right Now

 

 

Rain, Rain Go Away

Life is better in a hammock, but let's face it - the weather doesn't always cooperate. When the wind and rain decide to pay you a visit, you'll be happy you've got Trek Light's exclusive V9 Strong Tarp.

Designed for maximum protection and maximum versatility, you can set up your tarp in a variety of ways to either allow more airflow and visibility or to create a wall of protection to keep the storm at bay.

Buzz Off Bugs

Double Reversible Zippers make getting in and out a breeze, even in the middle of the night
Included ridgeline cord keeps the netting comfortably out of your face
Setup takes a few seconds using clips and toggles with no knots to tie
~1300 holes per square inch - the perfect balance of breathability, visibility and complete no-see-um bug protection

Consciously Modular Design

When we set out to design our gear we knew we had a choice to make. We could create a hammock with an attached bug net and rain fly, or we could keep everything modular. We consciously chose to make all of our gear modular to give you the most usability and help you get the most value out of what you buy.

The beauty of a component-based product line is that you can easily mix and match your gear and you always have the choice of what to carry and what to set up, every time. Your hammock is a piece of camping gear that isn't - unlike your tent it shouldn't sit in your camping closet waiting for the next big trip. Use your hammock every day at home or at the park and enjoy its relaxing benefits, and when you're ready to hit the trail just 'dress it up' with the accessories you need and your casual hammock becomes a hardcore piece of gear.

Yep, we thought of everything.

Specs & Features

Features

- Make your hammock function like a floating tent!

- Tarp is extremely quiet, strong and durable

- Multiple configuration options for varying weather

- All tarp seams waterproofed and sealed

- Bug Net offers 360-degree protection and easy double-zipper entry

- Universal Fit: Fits all Trek Light Hammock sizes and many other hammock brands

- Individual Carry pouches attached (never lose them!) 

- Lifetime Warranty & Happiness Guarantee

 

V9 Tarp Specs

Weight: 32oz
Dimensions: 12ft 8in x 12ft 8in (Diamond) or 9ft x 9ft (Square)
Tie-Outs: 3 per side (8 unique grommets)
Material: Polyester coated Non-Crinkle Nylon
Waterproof: Of course
Color: Black on one side, Silver on the other
Carry Pouch: 11" x 9" (uncompressed)
Included: Comes with a thick ridgeline cord as well as plenty of tie-out line for securing the edges of your tarp. Since every location can require a slightly different setup based on your surroundings, the included Tie-Out line is uncut for your convenience. Simply cut the line as needed or desired. Tent stakes are not included.

Bug Shield Specs

Weight: 16oz
Length: 10ft
Width: 4ft 10in (9ft 8in circumference)
No-See-Um Proof: ~1300 holes per square inch
Waterproof: No, silly. That's what the tarp is for.
Carry Pouch: 9" x 6" (uncompressed)
Included: Comes with an easy-clip ridgeline for quick setup

Give Back Impact

Feel Good. Do Good. Pass It On.

For every item sold, we work with Trees For The Future to plant a tree in your honor.

Why is that so powerful? By helping small farmers and villages around the world with the planting of fruit & vegetable trees, shade trees and more, together we're going beyond basic environmental change.

Trees For The Future uses a Forest Garden approach to reforestation - planting trees to not only provide environmental benefits, but also food, income, and community agriculture where it's needed most.

Every purchase creates a chain reaction of good and happiness in the world, and it all starts with you.

Our Promise

Our Happiness Guarantee

We want you to be happy with what you buy from us, period. If you aren't, you've got our promise that we'll always do whatever we can to bring you happiness.

Within reason, right? Maybe you're sad because everything in our store doesn't cost $1 - well, we need to have some rules so we can survive as a small business.

What matters is that we're here for you.

We truly care about your happiness, and will always do what we can to help - maybe it's a discount on your next order, store credit for a future purchase, or just going out of our way to make sure that the next item you buy from us is exactly what you want.

30-Day Easy Returns & Exchanges

If for any reason you're not happy with anything you ordered from us, just send it back to us within 30 days by following the instructions on our returns page.

The product must be in unused or 'like-new' condition - you're welcome to try a product to make sure you like it, but we cannot accept returns that are abused, stained, washed/laundered, or damaged (unless it's the result of a manufacturer's defect).

Holiday Extension: All purchases made in November or December will be allowed an extended return window thru 1/31. We'll make it easy for the gift recipient to handle any returns or exchanges!

To view our full return policy details and initiate a return/exchange of your product, just click the button below:

No, we're not selling you bugs and rain in a fancy kit. 

And we're not selling you little accessories for the bugs and rain you already have either. Weirdo.

You can read more about what this kit contains below, or you can just roll the dice and surprise yourself.

NOTE: This is an accessory bundle, the hammock is sold separately.

View full details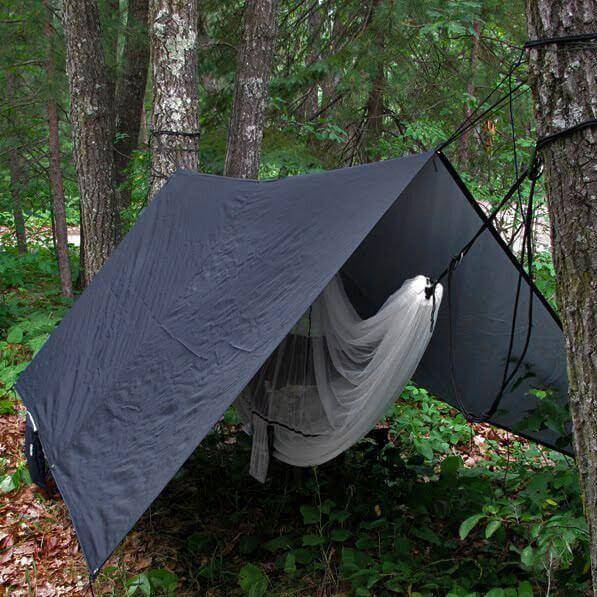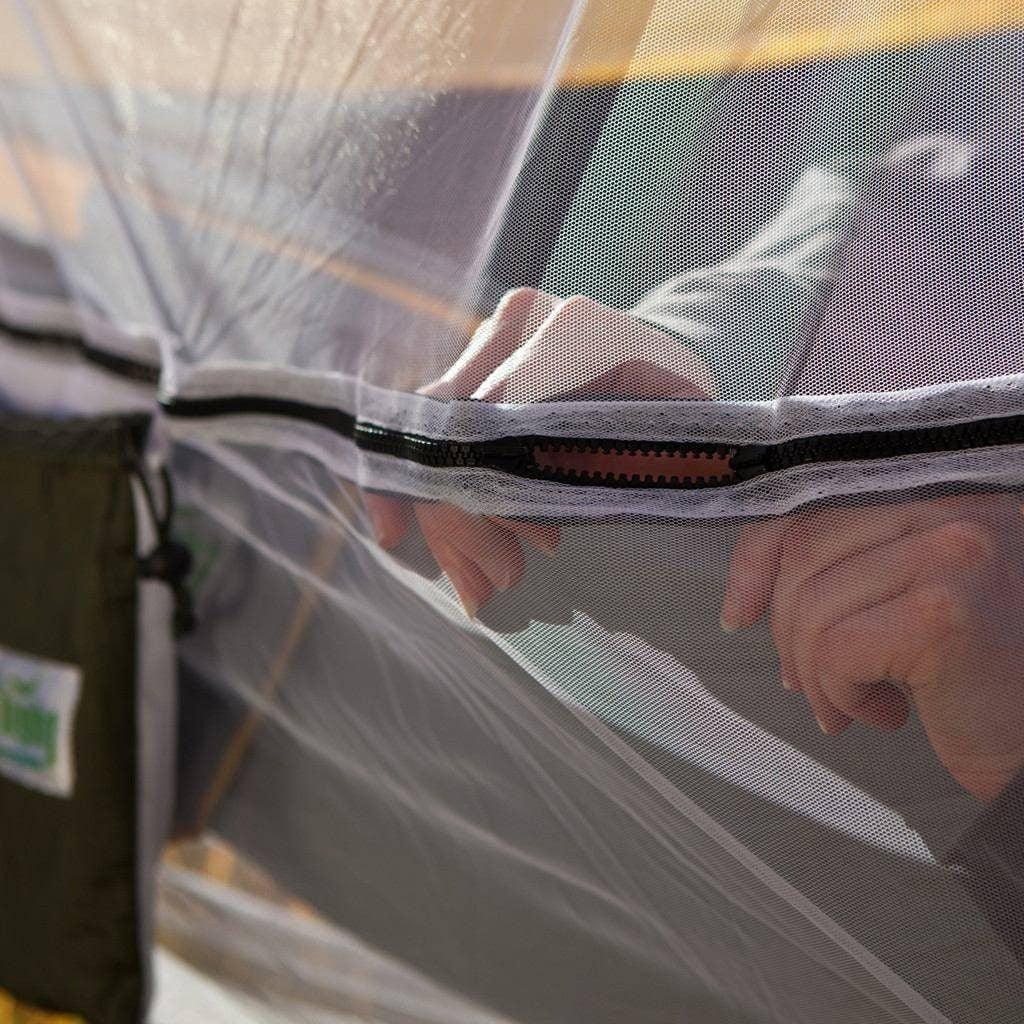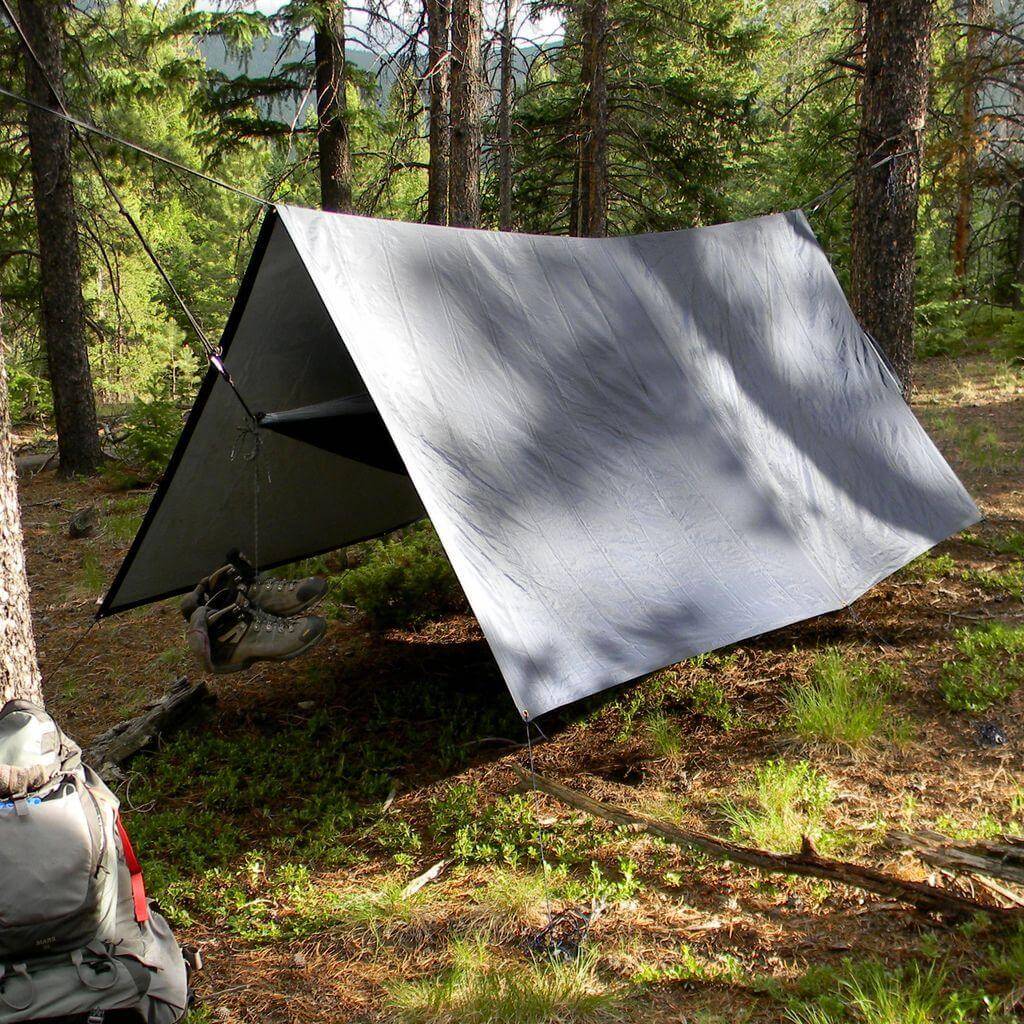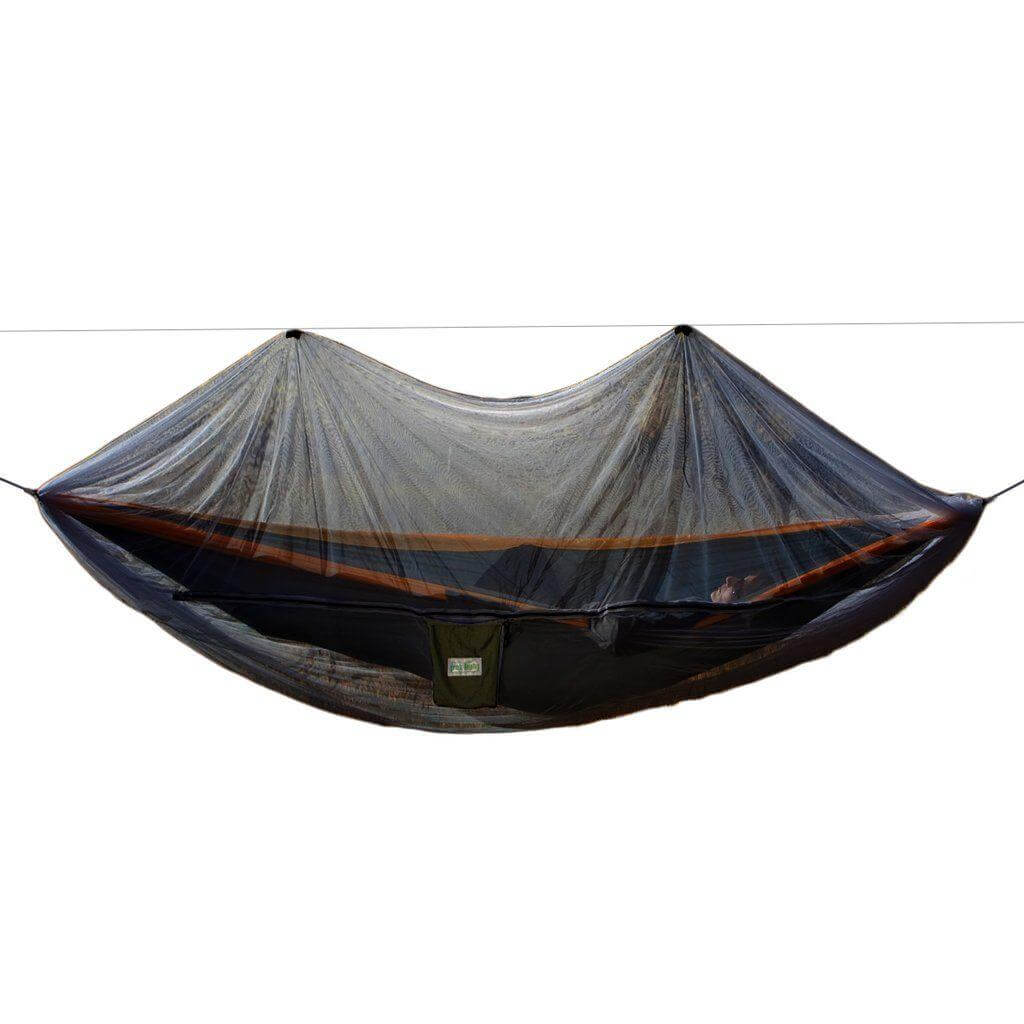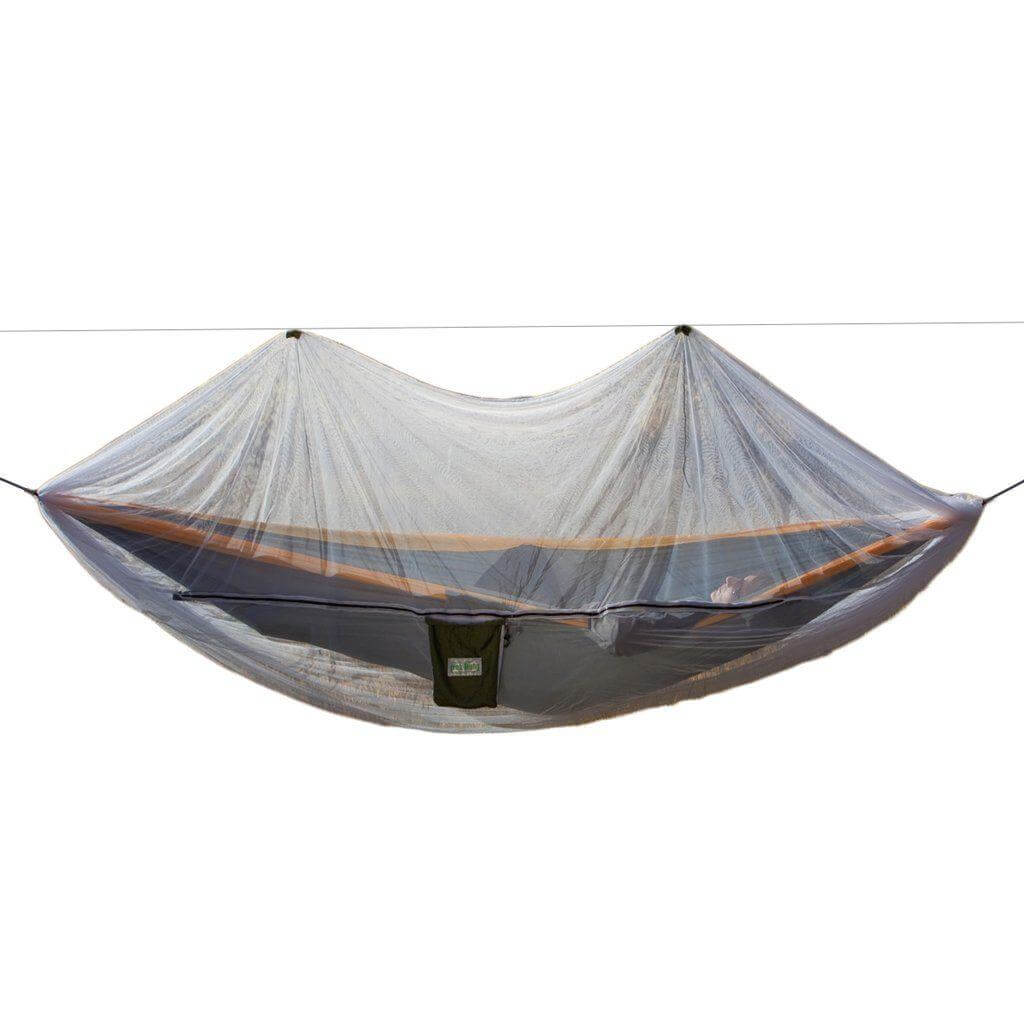 Worked great!
Camped in northern Wisconsin when the nights were still cold and the tarp helped hold In the heat. Slept cozy warm and no bugs. I felt like I was in my personal cocoon!
My tree choices were far apart though and I wished I would have brought an extra set of straps for the tarp. I finagled the ropes that came with it enough to make it work though.
Highly Recommended
Two week backpacking in Belize, the kit was lightweight and easy to set up in a pinch. Kept two of us dry and bug free at night from beach front to deep jungle. The 360 coverage a huge comfort when everything wants to either crawl or gnaw on you! Not a single intruder; countless failed attempts. A single tarp was plenty large enough to cover two hammocks that are hung sharing one hang point or bunked up. The bug net ridgeline clip conveniently clipped to either the included bug net cord or the tent ridgeline cord. The bug net was large enough to bunk two hammocks in a single net while still offering 360 protection, however a bit of tweaking was required to ensure that the ends did not allow bug entry. We ripped one of the bug nets while bunking in a single net, but we were not only using it outside of its intended use, we had also gotten a bit rambunctious that night. An easy fix from the comfort of the hammock with a headlamp and sewing kit. Very happy with our decision to go with this kit and would highly recommend for anyone seeking outdoor adventures! High quality gear that is lightweight and performs!
Excellent
This kit (the bug screen/rain tarp) was everything I needed to make my hammock something I can camp in. Tried it out Friday night. Took about 25 minutes first time in my back yard to set everything up (first time always takes a bit to tweak - that's why I did it in my back yard). When the time came, got right in, zipped up, and read for a while till I fell asleep. Was very comfortable, and NO BUGS, though the mosquitos and June bugs were out. Looking forward to camping "for real" with this stuff- perfect for tossing in the motorcycle for a multi-day trip.
Really works
My family insisted that the big net wasn't going to be enough to keep the mosquitoes at bay. I decided to give it a shot though and boy were they wrong! I had the best, no bug bites nap outside that I've ever had.
Thanks, Alexandrea! Wishing you many more bug free naps in the sunshine!
Definitely increases usability
Minnesota in summer has plenty of mosquitoes and the bug shield lets me enjoy the hammock on the mosquitoes' turf. Not quite as open and free but definitely better than a tent.
Choosing a selection results in a full page refresh.
Opens in a new window.